Blue Banner Headlines
The student voice of UNC Asheville
Updated: 22 min 47 sec ago
Many stories lurk throughout Asheville, whether they are behind the Vaudevillian jazz-folk played by buskers around Pritchard Park, the colorful businesses decorated with funky, hand-made crafts or the laughter echoing from a patio as locals and tourists alike enjoy delicious beer. 
Larisa Karr                                    
Managing Editor
Genevieve Louise Williams, 50, unemployed, originally from Knoxville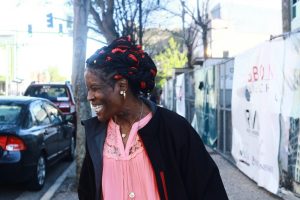 Genevieve Louise Williams constantly works to make her life better everyday. Photo by Cat Pigg.
"Asheville is a wonderful place to be. You hear a lot of people say, 'Aaaaaaaah.' Those are the people who don't have nothing to do or don't want nothing to do with their life. Life is enjoyment and getting out and about and enjoying the place where you're at. So, that's what I like to do."
Do you have a life motto that you live by?
"Yeah, I've pretty much done all my goals. What I'm trying to do now is better, see better, walk better and know what you're worth and just pretty much have a better time and a better relationship with life, people and the people you're around because it's just going so fast. I've seen the worst, played with the worst, done the worst, so I'm looking for better."
Yeah, how would you describe your style?
"Very sophisticated, very strong, very knowledgeable and very intelligent with what I've learned in life."
What would you say inspires you on a day-to-day basis?
"Knowing that I've conquered what I need to conquer on a daily basis by not knowing that I've done nothing."
So if you could describe yourself in three words, what three words would you choose and why?
"I am me. I say 'I am me' because at the end of the day, you have to recognize who 'I' is, which is 'me', and 'me' has to make a profit, I wouldn't say a profit but I guess that's something you would say nowadays. But you have to make an effort to make the profit, to be able to just get anywhere than what you could be doing when you couldn't do nothing. So, I still got my strength, still got my health and like I say, I'm still out to do it and I love the place I'm in and I love the people. I don't have to know everybody. You don't know everybody, don't love everybody. You just love their culture, their nature, the people who we're around. We all spin. We all eat together, you know what I'm saying?"
So if there's one thing in particular you would say you liked most about Asheville and if there's something in particular you dislike about Asheville, what would you say?
"Well I would say the dislike about Asheville is all the high-rated crimes, the murders, just all the loss going on. Some of it can be controlled, some of it can't, so we'll leave that up to the spiritual part but what can be controlled, that's what we need to be doing, working on all this. I'm not gonna stay locked in. I'm gonna come out in the world and enjoy the world I'm in."
Rachel Boyle
Sports Staff Write
rboyle1@unca.edu
The UNC Asheville baseball team brought home a victory against Wofford College, with a final score of 5-3.
UNCA senior pitcher Jordan Fulbright said he felt great about their strong win in Wednesday's game.
"It is the best feeling in the world every time when we win. Just knowing that you went out and you played your best, because baseball games are not short, and you know you went out and you just played better than somebody else for about three hours, giving it your all," Fulbright said.
The stands were filled with students and parents cheering on the Bulldogs. One student was there as a support of the team and also a supporter of her friends. Junior political science student Elinor McKeon was a proud supporter of her Bulldogs.
Despite a rough start, the UNCA Bulldogs defeated Wofford 5-3 at a home game on Wednesday.
Photo by Bryce Alberghini
"I love it when UNC Asheville wins after all the hard work of the players. It is nice to see them succeed in something that they have put so much work into," McKeon said.
Senior psychology student Emily Werth was another Bulldog present in the stands cheering on the players.
"I am friends with a couple of the guys on the team and I wanted to come out to support. It is also so nice and fun to come out and watch them play when it is such a beautiful day. They are a fun team to watch and even if they do not win the game they still have great attitudes about it and still bring excitement to the Bulldog family and they are good guys," Werth said.
Throughout the game, the team had a few ups and downs. In the first half of the game the Bulldogs struggled to reach home plate but kept high hopes and focused on playing the game.
"I definitely feel a stronger connection to the players out there during a game as a student athlete because I know some of them personally and give them the support they need. As a UNCA swimmer, we are always going hard in the pool so I know the feeling of the grind that they have to go through as well. I understand the difficulties of conditioning.  have been there in their shoes before so it is definitely something I can connect to," Werth said.
Baseball has been a key part of the lives of many of the players on the team as they can remember. Senior pitcher Nick Boyles said he grew up playing the sport.
"I love playing baseball. I truly play it for the love of the game. I have been playing baseball for as long as I can remember I think I started when I was 4 or 5-years-old and every time that I got an opportunity to play I would take it, because I mean when it is something you love you cannot just pass it up. It is a lot of fun being around such a great group of guys. I have a lot of love for them," Boyles said.
Boyles is not the only player on the team who  had baseball in his life before college. Fulbright said it was a big transition to go from playing high school baseball to playing baseball at a collegiate level.
"I played baseball in high school so playing as a college athlete is totally different. At UNCA, it is a lot more of a time commitment than it was in high school and all together it is more of a commitment of your life because you are working and playing for it every single day but it is worth every minute of it," Fulbright said.
As the baseball season comes to an end, Wednesday night's victory was a proud moment for the team and the fans in the stands. The Bulldogs left the stadium with a victory on and the team has high hopes for the rest of the season, Boyles said.
"It was great that we won tonight's game. We have been going through a little bit of a rough patch so winning against Wofford it was a great feeling. I feel like we are going to end the season strong and I know the team has good motivation after tonight to keep pushing hard," Boyles said.
Samuel Robinson
Sports Staff Writer
srobins8@unca.edu
UNC Asheville officially introduced Mike Morrell as the new head coach for men's basketball at a standing-room only press conference.
Athletic Director Janet Cone introduced Coach Morrell, who appeared confident and excited for his first head coaching opportunity.
"We are going to compete for Big South Championships. We are going to win those. That's a strong statement. It takes a lot of work. I've been on those type of teams and I've seen what it takes," Morrell said. "That's what we're going to do here, but we're going to do it with great integrity, and we're going to do it the right way."
The introduction took place Tuesday afternoon in the Ingles Mountain View Room at the Sherrill Center, overlooking the court Morrell will lead the Bulldogs onto for the first time as head coach in November.
Morrell joins UNCA from the University of Texas where he worked under Shaka Smart.
"I worked for a person that challenged me every day to think like a head coach," Morrell said. "The foundation of everything that Shaka Smart taught me was that relationships are the most important thing. Until you get that right they won't put it on the line for you."
Morrell worked with Smart for eight years beginning when they both worked as assistants under Oliver Purnell at Clemson University. Smart then hired Morrell as an assistant for two years at Virginia Commonwealth University and then three years at Texas.
"We're going to press and we're going to get after people. I really believe that's how you play," Morrell said.
Morrell replaces Nick McDevitt, a UNCA graduate and fan favorite, as head coach. McDevitt helped the Bulldogs win  81 games over the past four seasons, the best win total in program history.
"I understand that the people that came before me are a reason why this job was so desirable for me," Morrell said. "I've been here for about 96 hours, give or take, and you understand very quickly what a great job has been done here in the past and I'd be remiss if I didn't bring that up."
McDevitt helped turn the Kimmel Arena into a fortress. The Bulldogs won 26 of their last 28 regular season games at Kimmel Arena, a feat Morrell will look to build on.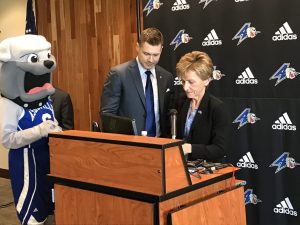 Athletic Director Janet Cone welcomes Mike Morrell, new head coach for the men's basketball team. Morrell comes from the University of Texas where he coached under Shaka Smart.
Photo by Samuel Robinson
"I want basketball here to not only be a game, but when you come here I want you to feel like it's an experience," Morrell said. "I want people to come here and feel like, 'That was two hours of absolute bliss and I can't wait until whatever the next game is.'"
Morrell hails from Elizabethton, Tennessee, and played basketball at Milligan College, a liberal arts school near his hometown. He said he first fell in love with basketball when he was eight or nine years old when he and his stepdad traveled from Tennessee to Asheville, where Morrell attended one of his first college basketball games.
"I couldn't be any more excited to be here," Morrell said. "One of the experiences that I had to fall in love with basketball came in the Asheville Civic Center in the early '90s. So for me to get my first opportunity at UNC Asheville really comes full-circle."
Athletic Director Janet Cone headed the national search that yielded Coach Morrell. Cone solicited the advice of current players, a gesture the student athletes greatly appreciated.
"Ms. Cone and her staff really took the time to listen to us as players and take into account our input in the selection process," said Grant Townsend, a sophomore forward and engineering student. "It shows this program is not only dedicated to developing us as basketball players, but also dedicated to developing us as individuals, morally and intellectually."
Cone said she was drawn to Morrell's positive attitude, charisma and desire to build meaningful relationships with those he encounters.
"I can't tell you how excited I am to introduce our new head coach and welcome him to the Bulldog family," Cone said. "You all think I'm a Bulldog on steroids, wait until you get around this guy."
Interim Chancellor Joe Urgo said he is pleased the Bulldogs are adding such an experienced and dedicated educator to the basketball program.
"When I think about the kind of athletic program that we have here, and the strong emphasis on scholar athletes, we're looking for someone who's an educator in addition to being a coach, or someone who is able to blend the two categories together," Urgo said.
Morrell describes himself as a player-first coach. He said he cannot properly coach a player without first having a good relationship with them.
"I'm here to help them become the best version of themselves," Morrell said. "The best version of themselves might not be until they're 26 or 27, but we've got to expedite that process while they're here. That's a great challenge, but that's why I coach."
Because of the timing, Coach Morrell finds himself in limbo in terms of recruiting. Since it is so late in the year, Morrell and his staff may struggle to recruit and may find it difficult to replace graduating players such as Ahmad Thomas, Kevin Vannatta and Raekwon Miller. Morrell said he hopes to keep the McDevitt's last recruiting class in tact, but understands players may change their minds.
"I made a decision that was best for me leaving Texas to come here," Morrell said. "The person that you've got to be okay with when you make a decision like that is the person that's looking back at you in the mirror."
Eyebrows were raised last week when standout sophomore guard MaCio Teague got his release to transfer. Losing Teague would make sophomore center Jonathan Baehre the only returning starter for the Bulldogs next year.
"I know that he's a phenomenal kid and that's where it starts and ends. He's got to do what's best for him," Morrell said. "He's always going to be supported here, that's the main thing."
Despite the potential personnel changes, Coach Morrell is looking forward to getting started with the Bulldogs and assessing the talent on the team.
"I want to play meaningful games in March. In order to do that, it starts now," Morrell said.
Artists of all genres thread the community of UNC Asheville. From musicians to painters to poets, art is made across campus.
Taylor Sexton 
Assistant A&F Editor
tsexton@unca.edu
The smell of coffee and baked goods wafts throughout Argo, the whirring of the coffee machine screeches over the low chatter of students as bright sunlight filters through the windows, catching the coffee cup clutched in Eli Helms' hands.
Helms, a sophomore new media student at UNC Asheville, was homeschooled until 10th grade, but his mother made sure he was always surrounded by art.
"I come from an artistic family," Helms said. "I've always been creatively inclined, so this is definitely my thing."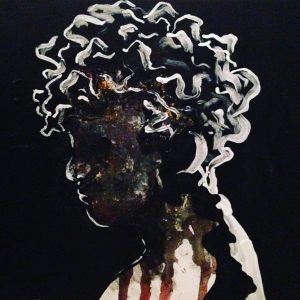 Eli Helms describes his artistic inclination as being a result of coming from an artistic family. Art courtesy of Eli Helms
Helms said he started off with watercolors as his main medium, his subject matter focusing on nature studies. It was not until he began high school art classes that he branched out in mediums, style and subject matter.
He now uses acrylic and watercolor on canvas and, since attending UNCA, ventured into digital art, something that Helms said is not nearly as hard as it looks.
"In high school I started getting into art classes and that pushed me to move onto more abstract landscapes and weird shit. And then, coming here, I started getting into digital design," Helms said.
His art is heavily inspired by his emotions, often using art as a way to communicate and cope with his feelings.
"Most of the time it's like all of my art is produced from the emotions I'm feeling, most of the time they're dark emotions, that's normally when I can create the best. I'd say it helps me cope with things," Helms said.
He also said he feels as if his personality requires him to create art, that it is an unconscious decision.
Amahdi Stewart, freshman art student, has known Helms for three months and agrees his work comes across as being influenced by his emotions.
"I think his art is amazing and the concepts are really cool things you'd never think of. I think he's extremely creative, I'd like to think his pieces directly relate to how he's feeling or how his mindset at the time is, because it certainly seems that way," Stewart said.
Helms describes his style as abstract expressionism, yet also modern and sleek or anything else that comes to mind when you think of modern art, he said.
"His art is very abstractly beautiful. All of his pieces are very surrealistic and he has a really good eye for color, which I think draws the viewer in," Stewart said.
Helms said he wants his art to make an impact on the viewer, though he understands it does sometimes take being in a certain mindset to fully understand his pieces. He wishes to make his viewers think.
"I just want it to make people think and question, because a lot of the times people will not understand what my art is and what it's depicting. I think that's kind of a good thing, it makes people think and wonder what my intentions are and what the meaning is," Helms said.
Helms currently displays one of his pieces in the 51st Annual UNCA Juried Student Exhibition. He also features a lot of his art on his Instagram, manic.designz.
Not only is Helms a visual artist, but he is also a musician, playing bass guitar for two local alternative rock bands, Skipper the Lion and The Walbournes.
"I consider music to be another form of my art, although I tend to focus on visual art," Helms said.
Skipper the Lion, an alternative rock band, is Helms' main project and was formed back in 2014 with some of his fellow classmates. The band is comprised of Helms on bass and keyboard, Trey Spears on guitar, Austin Goodman on drums and Johnny Oliver as the frontman.
"We're fairly well known in Charlotte and commonly play venues such as Snug Harbor and The Fillmore Underground. The song we are about to release is called "Five Leaf Clover," it's really heavy, bluesy, grungy and loud," Helms said.
Spears has known Helms since their sophomore year of high school, when the two were in jazz band together. Spears said he has watched Helms grow as both a visual artist and musician.
"When I first joined Skipper, Eli was in a couple of different art classes and started to make these huge paintings and the whole time I couldn't think of using any other art for our music releases than his. He had this hand painting with a pointing finger, it was beautiful. For at least a year, that hand was kind of like our logo, his art has blown us all away since we first discovered his abilities," Spears said.
Spears expressed his excitement for the release of the band's upcoming single. They will also release a documentary about the making of that single.
Spears also said Helms contributed greatly to the songwriting process of both bands.
"Eli is hands down one of the best songwriters I've had the pleasure of working with through the past few years. He brings a calmness that is needed in every band and just knows exactly how to make a great song for both bands," Spears said.
The Walbournes started as a side project for Helms and Spears about two years ago, with Helms on bass, Spears on guitar and vocals and Nick Papazekos on drums.
"We're still trying to build a presence right now and haven't played any shows yet, but we have a little demo up on YouTube and are about to release a single called "Losing Signal," which lives in the realm of Queens of the Stone Age, Highly Suspect, Nirvana, that kind of sound," Helms said.
Spears said The Walbournes is a simple three piece band with catchy guitar riffs and high energy.
"I had a handful of songs that I had written, some with Eli and I wanted to keep them separate from Skipper and branch out into something else," Spears said.
Both said they hope to see success come from the two bands, though really they just love making music and are excited for the release of their upcoming singles.
"I've considered Eli to be one of my best friends in the entire world. He gets on my nerves a lot, but that's super easy to do anyways. Eli is more of a brother to me. It's a different kind of process between Eli and I and I think that's what makes each song we write a little bit better than the last each time," Spears said.
Helms summed up himself, his art and his music in one phrase that he found very fitting.
"Just keep it weird," Helms said.
Laura Hoffman
Contributor
lhoffma3@unca.edu 
A friendly brewery in Asheville's South Slope is creating an environmental impact on the community slowly, but surely. Twin Leaf Brewery prides themselves on the quality beer they have on tap as well as making the switch to renewable energy.
Jes Stavish, UNC Asheville alumna and Twin Leaf's marketing and social media manager, expressed her excitement to see the brewery take the big steps toward making the facility more environmentally conscious.
"The brewery has a negative footprint on the energy grid," Stavish said. "And actually put a significant amount of energy back into the power grid."
According to Twin Leaf's website, the brewery dedicated the time and money to invest in wind power as a way to turn away from traditional electrical power. Twin Leaf plans to install rooftop solar panels to continue to reduce their environmental footprint.
Tim Weber, owner and head brewer of Twin Leaf, currently has a contract to install solar panels in the next few months to continue the switch to renewable, clean energy.
In North Carolina, solar panels range from $10,500 to $23,660, according to energysage.com. Depending on the size of the solar panel, the price can go up exponentially. For the Twin Leaf team, the cost did not deter the brewery.
"It was just a matter of capital as solar panels are a pretty large expense, however, the decision to make these conscious conservation efforts was really a no-brainer for Tim, as this is one of his biggest passions aside from brewing beer," Stavish said.
Lindsay Ferkol, senior psychology student, had no idea Twin Leaf was making such a huge impact on Asheville's environmental footprint.
"I see different breweries around the Asheville area and I don't even think about the environmental impact they have," Ferkol said. "I hope to see bigger breweries follow in Twin Leaf's footsteps in all environmental capacities."
From supporting local environmental groups to planting native species trees along with pollinator gardens, Twin Leaf creates an environment which not only brews great beer, but creates positive change in Asheville's environment.  
"Twin Leaf's goal has never been to be a large distribution brewery, but a community brewery with a focus on the people, community and environment surrounding us," Weber said. "We want to do everything we can to work with local environmental groups and Asheville community outreach organizations."
Twin Leaf Brewery was recently a sponsor for ClimateCon, hosted by The Collider, an Asheville nonprofit which focuses on innovation in climate solutions. The brewery also fundraises for the Blue Ridge Parkway Foundation and Habitat for Humanity's home repair fund. Their creativity with fundraising continues by creating a bee beer, which collects funds for Bee City USA.
When thinking about the smaller aspects of being environmentally conscious, the brewery is making small changes within the business. For example, Twin Leaf rarely uses plastic or disposable cups—only glasses when serving their brews.
"The brewery does not currently have a specific recycling area for their glass bottles used." Stavish said. "The suggestion to start a recycling campaign specific to Twin Leaf is not out of the question."
Karrigan Monk
Editor-in-Chief
kmonk@unca.edu
In the span of an hour, 23-year-old Orson Welles put the fear of death in more than a million people.
It was the night before Halloween in 1938 and the nation was still reeling from the lasting effects of the Great Depression. Radio was the dominant media form of the era. On the Sunday night of Welles' broadcast, most Americans tuned into the most popular performer of the time, ventriloquist Edgar Bergen.
Orson Welles directing the War of the Worlds broadcast the night before Halloween in 1938. Though 6 million people heard the broadcast, a sixth of them did not understand it was a fictional broadcast and panicked at the thought of an invasion.
Photo courtesy of Wikimedia Commons.
When Bergen's broadcast ended, many listeners turned the dial to CBS where Welles was 12 minutes into his War of the Worlds broadcast, based on the H.G. Wells novel of the same name. Though there was a disclaimer made at the beginning of the broadcast that it was fictional, many listeners missed it by tuning in late.
Of the six million total listeners of the broadcast, approximately 20 percent of these people thought the broadcast was news coverage rather than a fictional Halloween special.
"You have to remember the period this happened," said Eugene Trantham, an English teacher at Gateway School. "Radio was all anybody had to get any entertainment or news. To them if it sounded like a newscast then it was a newscast."
In the aftermath of the broadcast, CBS and Welles were questioned while the Princeton Radio Research Project looked into the phenomena in a study headed by sociologist Hadley Cantril, compiled in The Invasion from Mars: A Study in the Psychology of Panic.
Through his research Cantril found that the broadcast frightened some listeners and not others because of three main reasons: characteristics of the broadcast, characteristics of affected listeners and situational variables.
Cantril also identified four types of listeners of the broadcast, ranging from those who rejected the broadcast as real because of internal evidence to those who fell for the broadcast without making any attempt to verify facts. The latter group made up a large portion of the million who  panicked.
When looking closer at these people, Cantril discovered they were largely of the same demographic: naïve, rural and of a low socioeconomic status.
According to Pew Research Center, this same demographic of people made up a large portion of President Trump's voter population.
"They sentimentalized and romanticized being ignorant and poor as if it were a virtue," Trantham said. "The poor need something to hold on to. They need to feel their crappy situation makes them better people. When they see the contrary, it causes cognitive dissonance and they reject it."
Stephen Juhlin, a Raleigh resident, said he is not surprised that those with less education are statistically easier to take advantage of, but that anyone can sell anything with enough skill.
Juhlin said he sees this demographic of people often forgotten.
"These people feel they have been losing a culture war for decades and have been forgotten economically," Juhlin said. "They have been taken advantage of by monied interests and turned into a Pavlov's dog of sorts that drool at the sound of the family values bell even if that bell doesn't actually care about those values and is going to sell them out financially. The bell then blames the other for it and the cycle continues."
Senior new media and German student at UNC Asheville Forest Gamble said he agrees uneducated people are easy to sway toward one opinion and he points to politicians using emotional rhetoric as to why.
Gamble said Trump's every-man language makes him accessible to a wide variety of people with limited vocabularies while those like Barack Obama often use eloquent language that not every American can understand.
"Hitler in Mein Kampf says that propaganda shouldn't target educated people, it should target people that are uneducated that are the working class and you can see that with fake news," Gamble said. "It tends to focus on blue collar issues rather than the intelligence."
Since the 2016 presidential campaign, fake news has come into the national spotlight with Trump claiming national news organizations who criticize him as fake news and even going so far as to offer fake news awards. Recently, television giant Sinclair Broadcast Group sent all 173 of their stations a must-run segment about fake news.
A viral video quickly circulated showing dozens of anchors at Sinclair-owned stations reading the same script word-for-word.
According to former KHGI-TV producer Justin Simmons these must-run segments are nothing new for Sinclair.
By the time Sinclair bought Simmons's former station in Nebraska, he had been working as a video editor there for two years.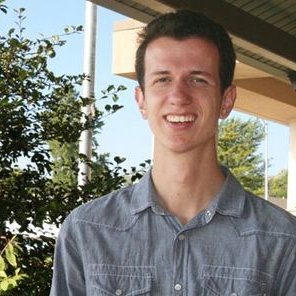 Justin Simmons is a former producer at Sinclair-owned Nebraska station KHGI-TV. He quit as a result of Sinclair's must-runs and is speaking out against the most recent fake news scandal.
Photo provided by Justin Simmons.
"Right away we had required segments from them called must-runs and that would be stuff like the 'Terrorism Alert Desk,' 'Behind the Headlines with Mark Hyman' and they also had several must-runs that we had to do on various national stuff," Simmons said. "I felt like a lot of the time the segments they required us to do had a conservative slant on them."
Soon after Sinclair bought the station, Simmons was up for promotion from video editor to producer. He said he hesitated to take the position because he did not want to be responsible for airing must-run segments, but ultimately decided to take the job because he would not be required to sign a contract.
When the fake news must-run came out, Simmons said he felt especially uncomfortable as the script closely echoed Trump's rhetoric. This, paired with the fact that another must-run from Sinclair, "Bottom Line with Boris Epshteyn," came from a former Trump campaign aide, left Simmons wanting to quit his job, which is exactly what he did.
"No one else was really in a position to speak out because they have contracts and a lot of those people are lifelong journalists who have families, kids, they have mortgages to pay and whatnot," Simmons said. "I just felt like I had to take a stance so I quit my job and I spoke out about it."
Since leaving Sinclair, Simmons wrote an op-ed for The Washington Post about his experience and has been interviewed by CNN among others.
Despite the nationwide controversy and Simmons speaking out, Sinclair remains the largest television station operator in the country both by number of stations and coverage area.
In 2017, Sinclair announced it would purchase Tribune Media's 42 stations for nearly $4 million, bringing Sinclair's total station count to 208. The next closest operator is Nexstar, which owns 171 stations.
The Tribune merge is currently on hold because of Sinclair's bias and Simmons said he hopes that putting attention on this bias and the must-run segments will prevent the merger from going through.
If the merger was approved, the combined viewing households of Sinclair and Tribune would, on average, be 2.2 million households for weeknight newscasts, according to Nielsen.
According to Pew Research Center, 46 percent of Americans get their news from television and 82 percent of U.S. adults trust the information they get from local news organizations. This number goes down to 76 percent for national news organizations.
Simmons said it is important for the public to trust journalists because many reporters who work for Sinclair-owned stations do good reporting but are overshadowed by the company's controversies.
"I understand why Sinclair does what it does," Juhlin said. "It makes them money and pushing a conservative narrative is what is most profitable as the Conservative Party, the GOP, would love to get rid of taxes and regulations all together because it makes the people in power even wealthier. I think Sinclair should be broken up as well as other large media conglomerates and the Fairness Doctrine reinstated."
The Fairness Doctrine was a Federal Communications Commission mandate that required TV and radio stations holding broadcast licenses to both devote time on their stations to controversial issues and to allow opposing views on those issues. Though the FCC had not formally enforced the rule in decades, it was officially taken out of the books in 2011.
Red Lion Broadcasting Co., Inc. v. Federal Communications Commission, a 1969 Supreme Court case, began the downfall of the Doctrine. Though the Court ultimately upheld the Doctrine, it was continuously called into question until it was repealed and was even revoked by the FCC in 1987.
According to Politico, the 1987 decision led to the rise of conservative talk radio as broadcasters no longer had to offer time to opposing views.
Though reinstating the Fairness Doctrine would force opposing views to be aired on the same station, some, like Ball Photo Supply employee and Asheville resident Everette Robinson, do not think it will be enough.
"Sinclair is in the business of buying up and controlling news outlets to satisfy a political agenda and probably an economic one as well," Robinson said. "To me the recent controversy made it blatantly obvious."
After merging with River City in 1996, Sinclair gained ownership of local Asheville station WLOS.
As mandated by Sinclair's must-run policy, WLOS anchors read the fake news script sent out to all Sinclair stations.
"It saddens me," Trantham said. "I grew up with WLOS as a child. It was the only TV station I could receive in Waynesville at the time. Looking back on it I felt it served the mandate of community service at the time. It gave us the local news and gave no manipulative commentary."
Trantham is not alone in this sentiment. After WLOS aired their reading of the must-run, dozens of viewers flooded their Facebook page expressing disappointment in the station for complying with Sinclair.
Juhlin, under the name Thadeus Buttons, commented he would be blocking the WLOS Facebook page because of their statement.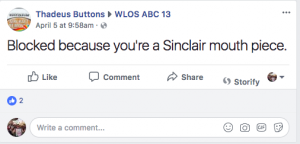 Under the name Thadeus Buttons, Stephen Juhlin commented on Asheville's WLOS Facebook page that he would be blocking them because of their recent compliance with a Sinclair fake news must-run.
Screenshot from WLOS Facebook.
"I blocked these organizations not so much because I'm worried that I might fall into their narrative but instead to lessen their views, likes, clicks," Juhlin said. "The less it's interacted with the less it spreads on Facebook."
Though Simmons said he appreciates the sentiment, he is not sure blocking or boycotting the stations will do much good.
"I wish more could be done," Simmons said. "I'm not sure that there is much that can be done legislatively. I will say that it is unfortunate for the stations that are being boycotted because some of them still do good work but all this is kind of ruining their credibility."
Simmons said the issue of credibility is also a big sticking point for Sinclair.
"I feel like most of that stuff occurs on social media and so the conservative script is that news outlets are spreading fake stories," Simmons said. "The issue is that they are claiming Sinclair stories are the only ones who get it right and that's not always the case. They're just like every other station. People get stuff wrong. They have to issue corrections."
The idea that social media is essential for the spread of fake news is one that Gamble is familiar with and agrees with.
Gamble said contact with one another is essential for the spread of ideas and social media only makes it easier for both good and bad information.
"Fake news is inherently viral. If you don't have the support of a large group of people what you're saying is not going to have any impact. By spreading lies at a grassroots level you have people talking to their neighbor who then talks to their neighbor and they're relaying this information via this web of individuals," Gamble said. "Nowadays it's especially relevant because you just don't have this peer-to-peer personal contact, you also can, through social media, see what a friend of a friend posts. You can easily share this information. In order for fake news to work, it really has to rely on this viral network."
Gamble recently gave a talk at TEDxUNCAsheville called "Spoon Baby and the Appropriation of Evil," where he explored the concepts of propaganda and fake news. In his talk Gamble advocates for everyone to create their own fake news in order to negate the effects of actual fake news.
Gamble said he found inspiration in his favorite communist films and the 2016 U.S. election.
"You have all these news agencies and such that say fake news is taking over social media, taking over all this but you didn't see anybody using fake news positively, it was all negative," Gamble said. "My idea is what if you created positive fake news that propagated positive ideas, a positive agenda that you could essentially fight this negative wave of fake news?"
Though Gamble is optimistic that fake news can be altered to become something more positive, Simmons still errs on the side of caution.
With decades of history of sending out must-runs and creating what Simmons describes as cringe worthy political propaganda, he is not optimistic that change will actually happen, but still hopes for it.
"When you have journalistic organizations against what you're doing I feel like it's pretty clear you're on the wrong side of history," Simmons said. "I would hate for more journalists to have to go through the same stuff that I did at Sinclair."
Annabel Gibson
News Staff Writer
agibson1@unca.edu
Bee City USA and Bee Campus USA, local nonprofit programs based in Asheville, recently surpassed 100 affiliates across the nation.
"Back in 2007, the breaking news around the world dominating the headlines was that the bees were dying, and they named it colony collapse disorder," said Phyllis Stiles, founder and director of Bee City USA and Bee Campus USA. "My husband became a beekeeper, suddenly we had two hives in our backyard. I cheered him on and then he begged me to start keeping bees with him."
Stiles started the official program in 2012, with Asheville being the first official affiliate.
"By the time we got to city council for the vote on June 26, 2012, we had a council chamber packed with people dressed like bees. It was just a real celebration," Stiles said. "They unanimously agreed to be the inaugural Bee City."
The organization focuses on raising awareness on the role pollinators play in communities and what people can do to provide them with healthy habitats.
"We are on a mission to change ornamental landscaping as we know it in America because we are at a place in our history where we think our landscapes should just be pretty and easy to maintain," Stiles said.
The application process to become a Bee City or Bee Campus involves agreeing to various commitments, Stiles said.
"Both the campuses and the city have to host at least one annual awareness event about the importance of pollinator conservation and what it takes to have pollinator habitats," Stiles said.
Cities and campuses also must have a pollinator habitat plan, which Stiles said entails having a recommended species list, a native plant and a least toxic pesticide plan.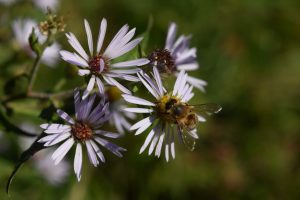 The 2007 announcement about colony collapse disorder prompted a local nonprofit Bee City USA to take strides to protect bees. Photo by Rebecca Andrews.
"UNC Asheville became a Bee Campus to recognize the hard work of departments and individuals who had already been advocates for pollinators on campus and formalize our commitments to supporting pollinator health in the future," said Jackie Hamstead, environmental specialist at UNCA.
UNCA recently hosted pollinator-related educational and outreach events, made new plantings and expanded the existing pollinator gardens on campus. The campus also developed the Integrated Pest Management Plan to minimize pesticide use and were certified as a Tree Campus.
"UNCA is one of the best Bee Campus USA affiliates in America because they have just done extraordinary work in making the campus pollinator friendly, and it's all because of the grounds staff," Stiles said.
It is still uncertain as to whether the declining population of pollinators will reverse, despite the efforts of Bee City USA, Bee Campus USA and other organizations established globally.
"All that we can say is we do know a lot of people are getting on the bandwagon and enhancing pollinator habitat and engaging lots of volunteers in the effort, because of Bee Campus USA and because of Bee City USA — we can say that," Stiles said. "We've got the numbers to show that. But is it reversing pollinator decline? We won't know that for years to come."
According to Bee City USA, they encourage individuals and communities to start with the resources they have instead of spending capital on showplace gardens, as pollinators do not need showplaces; they need pollen, nectar and places to mate, nest and overwinter.
"As they are for many people, honeybees are gateway pollinators, just like the old joke about marijuana being a gateway drug to more serious drugs, the honeybees are a gateway pollinator and they get you really really interested in all of the other pollinators," Stiles said. "After a couple years being a beekeeper and going to beekeeping meetings and seeing the movies about the decline of the bees and hearing nationally known speakers talk about it, I just got fed up."
Stiles works alongside other members of the beekeeping community in Asheville, who helped her to start the nonprofit.
"It had an awful lot to do with Phyllis' vision and mission and it was something that I thought really could make a difference," said Diane Almond, a beekeeper and volunteer for Bee City and Bee Campus USA. "It wasn't just a slogan or a clever idea, it was significant and meaningful. That's really what made me become a part of it."
To get involved with current opportunities relating to these issues, contact Jackie Hamstead at jhamstea@unca.edu.
Caitlin Doherty
Contributor
cdoherty@unca.edu
Drug and alcohol abuse can be dangerous and scary for college students. UNC Asheville provides students with several resources from both campus police and Residential Education in an attempt to lessen this danger.
"What we see here on campus is pretty typical of what you see among all college campuses," said Eric Boyce, assistant vice chancellor for public safety.
In the last two years, the number of student conduct referrals involving alcohol increased slightly while referrals involving drug offenses decreased, Boyce said.
Though the numbers seem low, Boyce said they remain a concern. UNCA's rate of drug and alcohol offenses are similar to other schools.
"The numbers are pretty consistent with what we see across a national landscape," Boyce said.
Boyce said increasing awareness and teaching students the consequences of abuse can help prevent it.
"There's a lot of programming to help students increase their awareness about the effects of drug and alcohol abuse," Boyce said.
Also, understanding the effects of what binge drinking can do to one's body can help students, Boyce said.
"For every shot of whisky, 4-ounce glass of wine or 12-ounce beer, it takes your body about an hour to process it. When students are aware of how the body processes out the alcohol then they can be more aware and know. Don't drink a six-pack in an hour," Boyce said.
If a student is found less than 1.5 ounces of drugs, campus police has an agreement with the district attorney's office where they can still live on campus and be referred to Residential Education, Boyce said.
When students have multiple violations, it increases the likelihood of officers taking more enforcement action, including a citation and possible arrest. Boyce said more serious drugs result in a felony and the student will undergo the criminal process.
Students caught with alcohol who do not need medical attention are referred to Residential Education. If they do need medical attention the student will receive help as needed.
"If they need medical attention North Carolina has an amnesty law, which means that if you need help you can call for help. The person who called and the person who needs help won't get in trouble," Boyce said.
Residential Education manages the residence halls, said Melanie Fox, associate dean of students. The staff ensures students have a safe and comfortable environment to live in.
The group includes professional and student staff, Fox said. They get to know the residents and open themselves as a resource, providing guidance to students in need.
Fox said drug and alcohol abuse does not seem to be huge problem on UNCA's campus.
"Any type of substance use that can be considered addictive at some point, and also cause problems for a person's education would be seen as problematic. If you think about alcohol use, I would say we're really low as it relates to other campuses," Fox said.
The low amounts of alcohol abuse could come from not having a football team and not having large groups of fraternities and sororities, Fox said.
"Marijuana is a common problem for us and we might be a little higher here than some of the other North Carolina campuses in terms of marijuana use," Fox said.
Harder drugs are just a consistent problem across the state, she said.
Students caught with drugs or alcohol for the first time will be referred to Residential Education. There, they go through an effective decision-making course, a one hour program on campus. Students also pay a fee which goes toward the program. Additionally, they take a StrengthsQuest inventory, a personality inventory, then meet up with their community director. Fox said sometimes students will do community service as well.
Second or third time offenses build on each other.
"We don't get a lot of second or third time offenses. Honestly, we don't get many first time offenses either," Fox said.
In order to prevent drugs and alcohol on campus, UNCA has a Campus Assessment Response Education and Crisis team.
"CARE and Crisis is a team of members of the campus from different disciplines. Campus police has a person on there, we have someone from OneStop, we have our dean of students, myself and there's a few other people like health and counseling," Fox said.
CARE and Crisis reaches out to students with difficulties and focuses on one-on-one interactions when helping students deal with substance abuse, providing them with resources and just being there for them, Fox said.
In the classes, students will share their stories which can help inspire other students, Fox said.
"Those real-life experiences, seeing them through the lens of someone that you can relate to is some of the better ways to get education out there," Fox said.
Melanie Fox, associate dean of students, said residential educationtries to make the campus a good environment for the students. Photo by Caitlin Doherty.
Jennifer Sanchez-Flack, assistant professor of health and wellness, said there is a problem with drinking on campus. Sanchez-Flack is new to the school and noticed a problem.
"Given that this is a college campus, I'm sure that there are issues, particularly around binge drinking," Sanchez-Flack said.
Being addicted to something can affect a person mentally and physically, Sanchez-Flack said.
"If you're suffering from addiction there comes a whole host of issues. You're constantly depending on drugs or alcohol to get through the day, you can't complete daily tasks if you don't have access to those substances," Sanchez-Flack said.
Addiction to drugs can affect someone physically as well.
"With physical health you go through addiction, cravings. I you drink too much you're constantly feeling hungover every day and that can affect your school and work performance," Sanchez-Flack said. "You could develop different diseases like cirrhosis, and depending what type of drug you use you can be at risk for certain diseases as well.".
The risk of drug and alcohol abuse can be different for college students compared to adults. Sanchez-Flack said there are a lot of social norms on campus, like students who abuse Adderall to study and parties where people binge drink.
"For adults it's different because you're not exposed to this tight-knit community like you are on a college campus. Like in your dorms, it could be happening where you're actually living, whereas when you're an adult you could be living alone," Sanchez-Flack said.
When students get stuck in the loop of addiction they should seek help. They should find someone they trust to talk to, or to bring with to appointments to make it less scary, Sanchez-Flack said.
Students can also occupy themselves with different activities, she said.
"If you know at a party everyone's going to be drinking alcohol and you don't feel comfortable, try to find a different activity to do," Sanchez-Flack said. "I know it can be hard, but if you find friends who don't do it that can definitely help."
Caitlin Doherty
Contributor
cdoherty@unca.edu
Usually when starting college, most students do not have many friends and live far away from home and beginning this experience can cause social anxiety.
UNC Asheville Assistant Director of Evening and Weekend Programs Catherine "Cate" O'Connor works to help these students get out and be social, despite how nervous they may be.
"It's creating the college experience outside of academics on college campuses," O'Connor said.
O'Connor works in Highsmith Student Union and plans events such as winter carnival and homecoming. She also supervises Underdog Productions, a student-lead organization at UNCA which plans campus events.
"I made really great connections and friends on a college campus and wanted to help create that atmosphere for future students," O'Connor said.
She said getting out and making new friends might be one of the most important things college students can do.
"While classes and academics are a priority, building a social network is also a priority," O'Connor said.
O'Connor went to college five hours away from her home and did not know anyone. She said she made friends through her roommates, meeting people on her hall, joining clubs and becoming a resident assistant.
O'Connor said connecting with roommates, meeting people through the residence hall, talking to people in class or joining student organizations creates an initial bond.
"Everyone's in the same boat. There might be people who are more confident and more comfortable approaching other people but typically when people come to college they don't know a lot of people, so most people are looking to make friends," O'Connor said.
Mark Harvey, professor of psychology, said he was not very social when he was in college.
"I was over focused on studying and was very concerned about about my grades," Harvey said. "I tried to make a point of not eating alone in the cafeteria. I always tried to ask somebody around to go with me, it's simple things like that."
Harvey said having a good social life is important because it provides a buffer against stressors in life.
"We're naturally a gregarious species and we naturally should be in social groups. If you're socially isolated it can cause a number of problems for you as an individual," Harvey said.
According to Harvey, a safe way to branch out from social anxiety is to join a club or engage in a shared activity with others.
Una Holland, a freshman student, said the clubs and events at the school can be helpful for those who do not get out a lot socially.
Una Holland said living with people forced them to make great friends. Photo by Caitlin Doherty.
"Going to different clubs that are supportive and going to events that you really enjoy helps a lot," Holland said. "One night I went to a club meeting here at school and I didn't really know anyone really well in the club. I just went solo and didn't have any close friends with me at the time. I had someone come up to me and we introduced ourselves to everyone else in the club and just got to talk to everyone and that's how I've been gaining more friends and meeting more people."
UNCA organizes many events throughout the school year for students to attend and try to make new friends. Incentives for going include door prizes, free snacks, drinks and NowPoints, which students can collect and use to win prizes at the end of the school year. Holland said making friends at college is easier than making friends in high school because in high school there were so many cliques it made it hard to find a good group of friends.
"I was nervous at first but got over it pretty fast because I saw all the fun that this school can bring, so it wasn't scary for too long," Holland said.
Annabel Gibson
News Staff Writer
agibson1@unca.edu
UNCA Divest, a student-run group on campus, met with the Endowment Investment Committee at UNC Asheville to discuss the universities' investments in fossil fuels.
"We are still making money off of the fossil fuel industry," said James Smith, the UNCA Divest coordinator. "While we do have individuals who are totally supportive, institutionally there is so much resistance to that change that it's taken years to get to where we are now."
UNCA Divest was established in 2015 with the goal of divestment of fossil fuels by all 17 institutions which contribute to the UNC system endowment.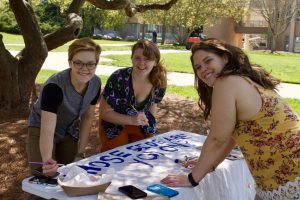 Anna Digman, Natalia Izlar and Erika Covey paint a banner for UNCA Divest, a student organization aiming to divest fossil fuels on all 17 UNC system campuses. Photo by Annabel Gibson.
"UNCA is in the process of drafting and submitting a Request For Proposal, a document that will be requesting investment firms to submit applications to potentially manage UNCA's endowment.  None of this would have happened had it not been for Divest and the students," said Ash Berger, a senior economics student and an Environmental Social and Governance fund coordinator at UNCA. "This movement has been from the start and continues to be a student-led movement, which has transformed from idealist activism to actual action and progress with the support of administration behind it."
In receiving approval for submitting an RFP, the group will be allowed to request more detailed information and proposals from the top sustainable investing companies.
"Our endowment, which consists of, I believe $47 million right now, currently profits off of huge fossil fuel companies, pipeline projects, and that's conflicting with our mission statement as a school which kind of expresses a commitment to sustainability," said Smith, a junior chemistry and environmental communications student. "What that RFP means is that we can take that endowment that is currently being managed by UNC Management and shift it to someone who can accommodate for sustainable investment."
The group requests the university upholds its mission statement to incorporate economic, social and environmental sustainability into their institutional practices and curriculum through the divestment of endowment funds from fossil fuel companies.
"We have this endowment here, we combine it with the pool of other endowments from schools like Chapel Hill and NC State, 17 other UNC system schools all funnel their money into this over 5 billion dollar fund that's managed separately by this other company called UNC Management." Smith said. "It's like we kind of blindly give our money to this company, they do what they want with it and we're under the assumption that they'll provide good returns, and that's where we're at right now."
Since their start in 2015, UNCA Divest worked toward the prioritization of sustainability in UNC Management Company's investment strategy and for higher levels of transparency when it comes to reporting on investment holdings.
"It's honestly kind of mind-blowing that our administration is so supportive because historically successful divestment campaigns have won by just protesting and really calling out their administration," Smith said. "The fact that we're taking the steps means that none of us have to be in that really uncomfortable position of direct action anyway."
Smith said while there was some resistance from the board initially, no one has outwardly objected to the movement.
"I got involved with the UNCA Divest Coalition because I think the divestment movement as a whole is a super important component in the discussion about climate change and what we can do about it," said Kelsey Hall, a freshman environmental policy and management student. "Divestment is a key step we can take to align our university's sustainability values with our investments' impacts and reclaim power from the fossil fuel agenda."
The student group currently meets every Thursday at 11:30 a.m. in the Glass House on campus.
"The problem is that climate change is such an immediate problem that we will be increasingly facing. It's just a trade-off between enough progress in the right amount of time and like the catastrophic effects that climate change does present." Smith said. "I think we as an institution are ahead of a lot of other schools, and particularly in the sustainable investment field a lot of schools are now looking to us for leadership in that area because of the progress that we have made."