Blue Banner Headlines
The student voice of UNC Asheville
Updated: 2 hours 16 min ago
Virginia Taylor
Arts & Features Staff Writer
vtaylor@unca.edu
As the sun begins to set behind the mountains, people begin to pour into the Celebration house, slack lining on the front porch, strumming away at guitars and sharing cups of tea around the table. For the students behind Celebration, this community aspect is exactly what they hoped to achieve.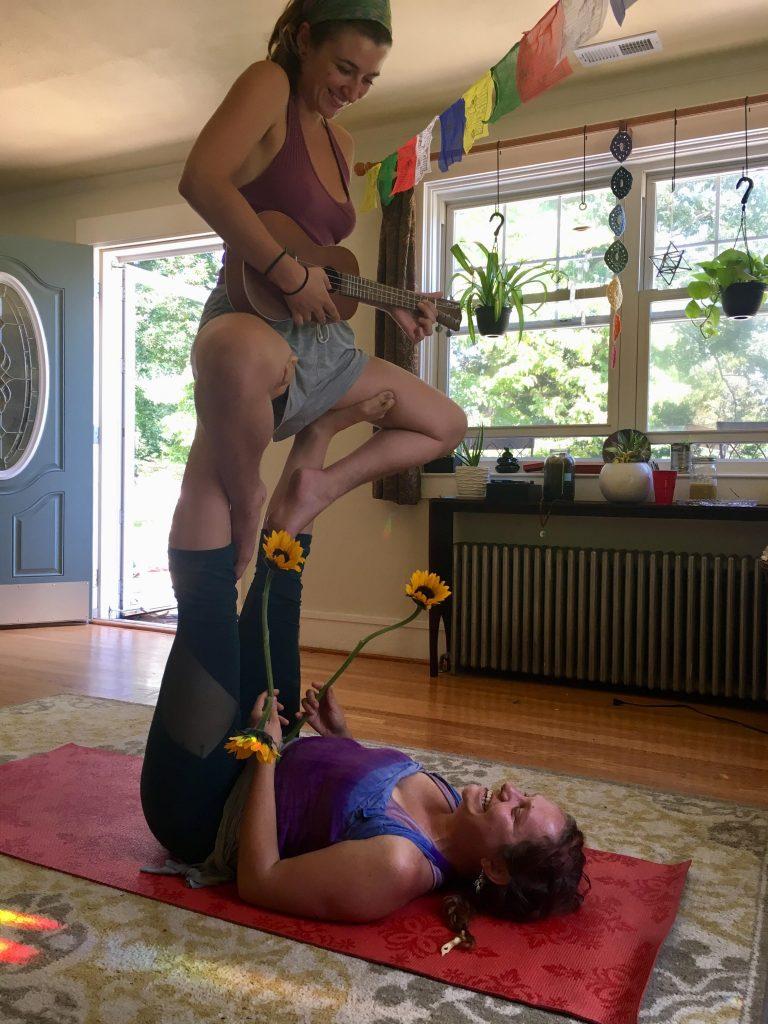 Community members Alice Cleary and Sarah Grace Hiller ran an acro-yoga class for members of the Celebration community
The Celebration Commune is a not-for-profit organization created by a handful of UNC Asheville students. The organization seeks to create a gathering space for people in the Asheville community to come and practice mindful living.
"Mindfulness looks different for everyone and I think really what we're trying to provide here is a space for anyone to come and just express that however they want to," said Zach Brubaker, a UNCA student and a live-in member of the Celebration Commune.
Brubaker, alongside five other current and graduated UNCA students, helped establish and now live in the community house, located less than 10 minutes from the UNCA campus.
To emphasize mindful community living, Celebration hosts a variety of events throughout the year. From poetry nights to slack lining workshops to acroyoga classes, the Celebration Commune hopes to be a hub of creation expression. Most recently, the commune hosted a Celebration Day, an event that combined many of the elements they wish to bring to the community.
"We just had a celebration day; we offered things from yoga to poetry to slack lining to a talk on non-violent communication, all kinds of things! We'd love to keep doing that monthly, weekly, daily, just as much as possible," said Lindsay Boheler, another live-in student at the commune. "That will be a big thing, just this culmination of interests."
Bringing together a group of students to create a mindful commune is no easy task. After meeting in mindfulness club on the UNCA campus, the students behind the Celebration Commune were inspired to create their own community following a silent retreat at Prama Institute in Marshall county.
"It was a weekend retreat and you were silent for two full days. They provided activities for you to do and really just guided you the whole time you were there," said Hunter Ball, a recent graduate of UNCA and live-in community member. "When we experienced that weekend we just recognized, why couldn't we just live like that? Why couldn't we do that in our everyday lives?"
Ball explained that following the retreat, he felt called to make a change and alongside fellow student Sebastian Herranz, began to lay the framework for what would ultimately become the Celebration Commune.
"We all go to the mindfulness club meeting here on campus, we're huge advocates for that and I remember one day I just said, 'I really want to start doing instead of just talking about change, I want to start doing something,'" Ball said. "I was feeling the urge with just everything going on in our nation and our society and I just wanted to start making change and then Sebastian spoke up and resonated with that and we just started meeting after that and figured we could start something."
As the idea behind the Celebration Commune began to take shape, more students started to become involved with the project. Completely student-led and student-run, they tackled everything from finding a house for the commune to creating a mission statement.
"The fact that we could get to many people to come together and work toward this common goal even though it wasn't for school and we weren't seeing the immediate results of what was happening was amazing, we were a force to be reckoned with honestly," said Alice Cleary, another UNCA student living at the commune. "It was a leap of faith but everyone was very dedicated and we were putting a lot of time into everything, we wanted to make sure this was representing everything we wanted it to be."
Now that Celebration officially established themselves in the Asheville area, they hope to set an example of community living to people all over the area, inviting anyone who wishes to take part in their mindful living.
"We see ourselves as a matrix to nurture people and empower individuals that have a certain gift, that have a certain intention to bring about something beautiful to the world and we want to provide the space for that," Herranz said. "We want to provide them with the support they need to bring about this beautiful gift and that's how we're going to be of service to the community."
Even beyond bringing the greater community in, the students behind Celebration see the commune as an opportunity to better understand and experiment with community living. With constantly rising population growth, the members of the commune view the ability to coexist sustainably and peacefully as vital and hope to explore this idea with the live-in members of the commune.
"We're very open about how we communicate and the importance of that because it's not a choice it's a necessity to learn how to coexist," said Lydia Senghas, the sixth UNCA student living in the community house. "We're learning how to overcome those conflicts and those feelings and emotions that are very intense and end up creating barriers for people."
Ultimately, the members of Celebration have big plans for the future of the commune.
"To become a 501C3 nonprofit is a big milestone that we're looking forward to reaching and it's definitely going to happen," Cleary said. "I think that will allow the word to get out so much more about this, Asheville's going to know about Celebration!"
In the future, Celebration would like to expand their community to a bigger compound in order to home more live-in members and create more access to the activities they offer. Beyond concrete goals, Celebration hopes to simply provide a safe, welcoming space for anyone that needs it.
"I think I prefer the word intentions to goals and I think our intentions have to do with where our world is right now and where our society is," Senghas said. "I think we see that these practices are potentially like an antidote to some of these things that are causing depression and anxiety and existential crises and also pragmatic things like environmental issues and relationship issues and it's just such a holistic approach we're taking."
With sustainability and mindfulness at the center of it all, Celebration hopes to provide a space where people feel comfortable sharing in their talents and interests with the community.
"Our long term goal is just to raise awareness within people around us by just having space for anyone that wants to come in and share something, come do it!" Ball said. "Whatever your passion is we want to empower that."
With its mission in mind and roots now established in Asheville, the members of the Celebration Commune now hope to expand their community by continuing to get people involved.
"We're a hub of exploration and play and creativity," Cleary said. "We have intentions and a plan for what this can be and everything but it's also an experiment. We're kind of just having fun along the way and getting people involved as much as possible."
Rosa Fallon
Arts & Features Staff Writer
rfallon@unca.edu
A variety of musical sounds filled Lipinksy Hall at UNC Asheville, ranging from classical singing and electronic soundscapes to bluegrass and contemporary pieces. Melodies and original compositions echoed throughout the building and down the staircases, creating a dulcet environment for anyone listening.
The department of music at UNCA officially launched the fall semester concert series on campus with the annual Faculty Music Showcase. The showcase was open to the general public and free of charge for attendees.   
The last performance of the evening given by Christine Boone, Matthew Richmond, Fletcher Peacock and Jonathan King singing "Gone Daddy Gone" and "Good Feeling."
"At the beginning of every semester, the students aren't quite ready to perform yet but we want to have something to get people excited about the department and what we have coming up," said Christine Boone, classical vocalist and assistant professor of music at UNCA.
Boone coordinated and hosted the event and has coordinated each faculty showcase for the past three years. She said that she started preparing for this year's showcase two weeks before the fall semester started.
"I really thought that I would have to do more pleading to get people to perform because it is taking time out of their schedules," Boone said. "But I think everyone has a really strong commitment to UNCA and to our students and so everyone is really eager to do it."
Boone, as well as other faculty and staff, are active performers outside of campus. For her, having a faculty showcase is important for the students of the music department to see what their instructors can do.
"Since the faculty are all teaching music, we're also all performing musicians and so it's a good opportunity for us to show the students what they can do and what we can teach them," Boone said.
"Music is a field that is very tied to apprenticeship models where you take one on one voice lesson or a one on one trumpet lesson, or what have you," said Melodie Galloway, associate professor and chair of the music department. "The more modeling we can do for our students, the more it benefits them."
Boone, along with Melodie Galloway and Pamela Miller, performed a piece called, 'Lift Thine Eyes' from an oratorio written by Felix Mendelssohn as the opening act of the evening.  Boone said she chose this piece because she felt there was a significant lyrical connection with UNCA's motto, "levo oculos meos in montes," which literally translates to "I lift my eyes to the mountains."
Galloway said the idea to have a faculty showcase concert started a few years ago when the music department decided to offer the first faculty recital.  
"Most university music departments have faculty recitals off and on. It's partly about the faculty member keeping themselves sharp with their instrument because if we're not performing, you're not really pushed to stay on top of your game," Galloway said.  
    She said the faculty and staff wanted to tailor the showcase to fit the liberal arts curriculum of UNCA. Instead of having different concerts for different genres, they decided to incorporate all different kinds of music in an effort to make it eclectic.
"Every time, it's a different mix and it's always really different. Like Dr. Boone said at the beginning, 'if you hear something you don't like quite that much, just wait five minutes and you'll hear something completely different' and I love that about it," Galloway said.
         The selection of pieces for the faculty showcases is usually a team effort and typically happens before the semester even begins.  
    "Dr. Boone was in charge of it last semester and she was willing to continue.  She kind of curates it, and I mean that in terms of people don't have to send in a recording," Galloway said. We're not that formal about it.  There's a lot of trust at this level if you're going to put yourself up there as a faculty member."
    Participation in the showcase is not a requirement for the faculty and staff but most of the faculty members will volunteer to be a part of it.
    "She'll put out a call, and first of all, it's whoever would like to do the showcase," Galloway said.  
    The showcase also presents an opportunity for the adjunct faculty to demonstrate their talent.  "We really, and I as chair, are trying to build a culture in our department where the adjunct faculty feel just as valued as the full time faculty," Galloway said. "And that's one tangible and physical way that we can do that."
Students, alumni of the music department and others from the campus community could be seen throughout the audience, some assisting with the event's setup while others were simply there to enjoy their instructors' performances.  Gary Freedman, singer and senior music technology student, was the live events manager of the showcase.
"I liked the general energy of having the faculty playing for all the students. These are all talented musicians who are all working outside of the UNCA community. They are all working toward their goals like all of us should be working toward our goals as well," Freedman said.  
Melodie Galloway says she hopes that interest in the showcase will grow.  Reaching out to the community outside of campus is important to her.
"I think it's starting to catch on in the community to draw community members as well as the campus community, but we're working on marketing to that wider audience, too because it's free and it's really high quality," she said.
Maddy Sherer
Assistan Arts & Assistant Features Editor
msherer1@unca.edu
UNC Asheville's Greenfest Campus Work Day creates an opportunity for students to acquire new skills while simultaneously helping their community.  
Jackie Hamstead, an environmental specialist and organizer of Greenfest Campus Work Day, said the event is the longest standing aspect of Greenfest.
Jackie Atkins helps shovel mulch to spread on the trails
"Everything else kind of changes," she said. "This is the longest standing event that we've had on the Greenfest calendar."
She said Campus Work Day allows students to give back to their school in an interesting new way.
"I think it's cool for students to be able to interact with faculty and staff outside of that classroom setting. I also think it's nice because we get to give back to the grounds' department, because they work really hard to make this campus a place that actually serves the community." Hamstead said.
Hamstead said UNCA's campus could use all the help it can get.
"I think it's nice to give back to them, especially since we have one of the lowest ratios of grounds staff to manage acres in the UNC system. I feel like they do more with less, so it's nice that we can help them out a couple times a year," Hamstead said.
Hamstead said this year's Campus Work Day focused on the trails behind Founder's Hall.
"It got a little bit washed out during the rains, so we're fixing it up, remulching it. We're also digging out a silt pond to catch some of the run-off, so it doesn't go down to the Botanical Gardens," Hamstead said.
Campus Work Day is also a great way to gain unique abilities and experiences.
"In a self-serving way, I think you feel better about yourself when you engage, if you fulfill your civic responsibility. I also think that people learn a lot," Hamstead said.
Hamstead said many students learned practical skills about landscaping and caring for an environment.   
"I think it's a nice way to get outside and get your hands dirty while giving back to the campus and enjoying others on your campus in a unique way," Hamstead said.
Mitch Griffin, 19, works as a groundskeeper at UNCA.
"My grandfather actually retired from here about six years ago. I was coming with him on campus since I was real little," Griffin said.
During this year's Campus Work Day, Griffin's duties include supervising the less experienced student volunteers while they work.
"We're trying to keep the path from washing out. We've got a couple little erosion issues and they're currently putting in some water breaks down on the trail," Griffin said.
Griffin said he enjoys getting to know the volunteers that join the grounds staff for Work Day.
"It's a learning opportunity. It's amazing how many people come and don't really know what to do, but they're interested in learning," Griffin said.
Bill Cochrane, UNCA ground supervisor and horticulturist, agrees with Griffin. He says Campus Work Day this year involved some planting, but mostly natural conservation.
"The rest is the maintenance and care, taking care of weeds and erosion. This project here is actually erosion control, which is going to help us with water quality and people's safety on the paths and being with our neighbors at the Botanical Garden, being good stewards to them," Cochrane said.
Cochrane said he greatly appreciates the assistance that Campus Work Day brings to the grounds staff.
"It helps us because we get a lot of hands on labor, which for a project like this, with two or three of us it would take three or four hours and we did it 45 minutes. So more hands make light work," Cochrane said.
Cochrane said he thinks Work Day provides benefits to the student volunteers as well as the grounds staff.
"It's good and it lets a lot of people that don't get experience outside working in landscape an opportunity to see what goes on daily. We're not a farming country anymore, so it's not as prevalent as it used to be," Cochrane said.
Cochrane said the volunteers worked hard and stepped out of their comfort zones.
"It's your home away from home, so it's learning to be a good steward of the resources around us. It's also a good way to build friendships and relationships outside of our normal groups. It kind of us helps us step out of our boundaries a little bit," Cochrane said.
Cochrane also said the grounds staff enjoyed meeting the student volunteers.
"It gives our crew the ability to meet the students and to see who we're doing the work for and it just allows us to have a little motivation to say, 'Hey, we want to make this college experience the best we can for the students and their families.'"
Kathryn Devoe
Opinion Editor
kdevoe@unca.edu
Students, faculty and staff struggle to find access to Moodle from the main UNC Asheville website after it was redesigned. UNCA's web presence lost ease of accessibility when it shifted their target audience from individuals involved at the college to potential students.
UNCA is an academic institution and we should focus on students and staff currently here to make life easier for them.
Adam Reagan, interim chief information officer, said the target audience of website changed.
Leigha Johnston checks out the new website.
Photo by Emma Jordan
"There has been a big shift to make sure that we are effectively communicating and attracting prospective students, donors, community members and much of the content that you see on today's home page is definitely geared toward that audience," Reagan said.
The change of audience on the UNCA website lessened the convenience of the home page. I think the links to Moodle and OnePort should be explicitly marked and easy to find, but I can't quickly find the links anymore.
Venea King, a senior psychology major, recognized the new website was different.
"With the website, I've just noticed a few issues. I have noticed that it's hard to navigate and search for specific things," King said. "You'll find no results when you know that information is in the system or it should be in the system."
Reagan said the Moodle button remains as part of the home page.
"We didn't get rid of Moodle, we just moved it. It is now on the bottom of every page, it's the top link in the footer of every page," Reagan said. "It is actually the third most clicked link on our website."
The location of the Moodle link seems very inconvenient and confusing. I would never think that something essential to academics should be at the bottom of a website. I didn't know the Moodle button existed on the website still until Reagan told me.
King said the last website was better in some ways.
"I loved the way that it was up at the top. The last website was just more convenient," King said.
The updated homepage features an icon of a person's head in the upper left corner which leads to OnePort, but it is not explicitly labeled OnePort. Reagan said there's a reason for that.
"There's a login button, it doesn't say OnePort and that's intentional because moving forward with a new version of OnePort we're probably not going to call it OnePort anymore," Reagan said. "OnePort is a term that we've had as an institution for the last 12 to 15 years."
The changes of the Moodle and OnePort buttons means students, faculty and staff struggle with the accessibility of knowledge. UNCA is a higher learning institution which means knowledge and learning should be easily accessible, but this value doesn't show through on their webpage.
Reagan said the new OnePort would hopefully be up and running for the spring semester.
"One of the biggest shifts in this platform is going to be able to provide you with content based on your role or your interests here at the institution," Reagan said. "So it's very much like social media."
OnePort confuses many students as they try to find their class schedules and accept financial aid packages. The UNCA website and OnePort honestly needed an update.
Reagan said UNCA used Drupal, an open source software to create websites, for the past ten years and the website was updated about every 3 years.
"So as we took a look at the technology for what our new site was going to be based on, we really took a hard look at the latest version of Drupal and WordPress and ultimately the decision was made to move toward WordPress," Reagan said.
Reagan said the updated home page on WordPress launched, but many of the other UNCA sites continue to be on Drupal because this was only the core launch.
"We still have some sites that are running on Drupal eight, but we will be working with the rest of campus throughout the rest of the calendar year and probably into the beginning of the spring semester to migrate their existing sites to the new WordPress platform," Reagan said.
The web presence of UNCA seems to be a developing project, but it has some negative implications for students, faculty and staff. I noticed the drastic difference between the department websites and the home page that the update created.
Assistant Literature Professor Evan Gurney said he was struggling with the home page.
"It's really difficult to navigate and it's difficult to find some of the central functions for a teacher or a student at this university," Gurney said.
The update has negative aspects for people already involved with the website. Educational links have more importance being front and center on the UNCA website than buttons like apply and take a tour for prospective students.
King said she was hopeful for the UNCA presence online.
"I just kind of worry about the functionality of it. I'm hoping that this is just the beginning and they're going to add on to to it," King said.
Amanda Nail
Opinion Staff Writer
anail@unca.edu
The first week of fall classes at UNC Asheville always brings a feeling of excitement and anticipation to new and returning UNCA students.
  Two weeks ago many of those students were anticipating being some of the first students to move into The Woods; our new apartment-style dorms at UNCA.
Consuelo Perez, a sophomore mechatronics engineering student at UNCA, arrived for the new school year in anticipation of being one of those students.
Perez didn't begin to move into her new dorm until a day later, after multiple negotiations between UNCA and other state agencies took place over whether the buildings at The Woods were safe which ultimately led to a compromise.
UNCA worked toward a solution as students were on standby for nearly two days, some of them having to stay in off-site hotel rooms.
"I came a day early and they didn't really have anything planned. I was just told to put my stuff into storage, and hang around campus and chill," Perez said. "We came to a meeting and they still didn't have a verdict, but I decided to go to the hotel rooms they were offering us and after thirty minutes of me already being there they said we could then move in."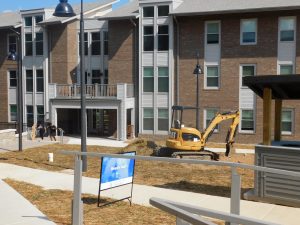 The Woods apartments are surrounded by construction equipment.
Photo by Maxx Harvey
Most of the concerns from the North Carolina Department of Insurance were regarding fire safety.
The State Construction Office had previously awarded the dorms a certificate of occupancy giving UNCA the green light to allow students to move in.
Mike Causey, North Carolina's insurance commissioner and state fire marshal, denied students from moving into The Woods after the certificate was issued, stating that he could not allow student occupancy if there were safety issues regardless of the certificate of occupancy issued.
Asheville Fire Department Chief Scott Burnette in an interview with FOX Carolina highlighted the importance of the stairwells meeting standards in order to withstand fire for a certain period of time.
John Pierce, vice chancellor for administration and finance at UNCA, took immediate action in helping to negotiate and get a signed agreement with the Department of Insurance three hours after The Woods closed down.  
"Once we got a signed copy of the document the next day as quickly as we could we called a meeting to address the items in the agreement with the DOI with the representatives from the State Construction Office, DOI, the Asheville Fire Department, the architect, the contractor and UNC Asheville personnel," Pierce said.
All parties involved in the meeting then met the following day on site to come up with actions, followed by a meeting the next day to propose solutions.
UNCA officials moved quickly, taking  notes in all the meetings circulating them for concurrence with all parties involved.
"We are working very closely with the architect and contractor to make the estimates of cost, timelines and all the things to expediently and safely address the issues involved," Pierce said
Bill Haggard, vice chancellor for student affairs, stated that they had prepared in advance, due to not knowing if The Woods would be finished on time, reserving a block of hotels in the area for student residents moving in early over the weekend.
"We assisted the students with transportation to the campus on that Thursday after we received beneficial occupancy on Wednesday," Haggard said.
UNCA students who could not move into their dorms right away were also assisted with their move in and storage of their belongings.  
As part of the compromise between UNCA and the NCDOI to move forward, four firefighters currently occupy an apartment in one of the five buildings in The Woods complex.
UNCA  covers the costs of the four off-duty firemen staying in The Woods, which is estimated to reach about $2,500 per day.
On campus the following Monday, Aug. 20, UNCA student residents of The Woods had mixed opinions with the university's handling of the situation.
"I felt there was a lot of miscommunications and confusion with us," Perez said. "We would come in and ask what was going on any they would say they didn't know."
Peyton Rodgers 
Opinion Staff Writer
prodgers@unca.edu 
The future of women continues to grow. The people of Asheville helped make an impact when they gathered together in Pack Square on Women's Equality Day for the ninth annual Go Topless rally. Many other U.S. cities hosted the event.
I am a supporter of the rally because it was created not only for the right of both men and women to go bare-chested in public places, but for all around equality between men and women. The women who came out to the rally were fighting to end wage gaps, gain better maternity leave and the simple fact that a woman can't walk around topless in public places, but a man can.
LaDonna Allison, planner and spokesperson in Asheville for the Go Topless rally, organized the event in order to educate women on their rights.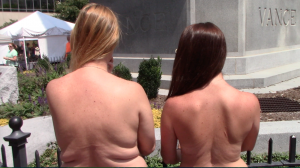 Participants showing some skin in celebration.
Photo by Maxx Harvey
"This rally is about being treated as equally as a woman," Allison said.
Allison wants to stop double standards between men and women and believes he Go Topless rally offers a great step in that direction since it gathers many people together. She hopes women will become more comfortable with themselves and become more confident.
Allison wants women to feel more liberated and to gain the freedom to make their own choices, no matter the circumstance.
A misunderstanding many people get from the rally is that the supporters are forcing women to be topless, but Allison stressed to everyone who attended, that the message is more than that. The message is not saying a woman has to face the world topless but is allowing her to have the choice if she desires to do so.  
Not all participants chose to be topless. Both men and women chose to stand by the topless women with pride, speak on behalf of all supporters who could not make it and come together as a community, which in itself is liberating.
This topic became so popular that some participants traveled from out-of-state to witness the rally.
Joyce Davis traveled from South Carolina to participate in the rally for her fifth year.
"I just think that we should have equal rights as a man," Davis said.
Public breastfeeding remains a  controversial topic, but Davis supports it and believes women should be allowed to breastfeed in all locations without feeling ashamed.  
My favorite part of the rally were the children. Children held the hands of their mothers who stood for their rights and beliefs. This allows children to not only learn the importance of acceptance through witnessing all types of women standing together for the same cause but, teaches them to not sexualize a woman just because her breast are exposed.
Jamie Bratcher attended the rally with her son and daughter by her side.
"Women's bodies are often seen as objects," Bratcher said.  
Bratcher hopes for the normalization of women's breast in public places, and supports the rally for all the women who feel frightened and sexualized.
By participating in the rally, Bratcher hopes for a safer environment for kids, transgender people and women.
Although the rally brought lots of women together empowering each other, it also attracted lots of gawkers, who stared at women's chests and took pictures, sometimes without the acknowledgment of the woman being photographed.
This is exactly why the rally is an important matter: women don't want to just be allowed to walk around bare-chested, but to be able to do so without the disruption of harassment.
Women shouldn't have to prepare for violence. Women, constantly assaulted for not responding to inappropriate remarks made toward them, fuels the fear of being alone at certain times and places. Nobody should feel the need to carry pepper spray on their keychain or brass knuckles in their bag, but as long as women are sexualized and treated as less, the issue will continue.
Consuelo Perez, a sophomore mechatronics engineering major at UNC Asheville hopes to see more women in her field.
"We're maybe one or two in the class and people expect less from us," Perez said of being a woman in STEM.
           Perez believes that many people like to act as if men and women are equal, but then their actions prove otherwise.
"Some people may be threatened by women trying to get their rights, but we should honestly confront it and negotiate a way to be equal" Perez said.
The conversation is out there, are women and men equal? Personally, I believe no. It's absurd to say both men and women have equal rights when women have had to fight for the right to vote, the right to proper health care, the right to serve our country and now the right to walk in public places bare-chested.
Some people say the fight for women to gain the ability to walk around topless is a cry for attention, but maybe that's what is needed. Women need you to recognize the problems they face and not push them to the side. People want to be recognized as the individuals they are and not a set of breasts. We can say the world is a dangerous place until our voice runs out, but until something is done about it, there will never be a change. I support the Go Topless rally, because the rally is a fight for me.
Madelyn DePodesta
Opinion Staff Writer
mdepodes@unca.edu 
Over the past couple of years, Netflix has proven to be capable of producing thought-provoking, meaningful television shows and movies. Between the creative genius of "Stranger Things," the heartwarming plot lines of the "Queer Eye" reboot and the diversity of "Orange Is the New Black," Netflix has something for a variety of audiences.
Yet, Netflix's new show "Insatiable" falls short on progressiveness. If anything, it moves in the opposite direction.
Featuring former Disney Channel star Debby Ryan, "Insatiable" follows the story of overweight high school student Patty Bladell, who constantly faces bullying and harassment for the way her body looks.
Jamie Choate, president of the Active Minds club, hopes to join forces with other organizations on campus to bring more awareness to body shaming.
Photo by Madelyn DePodesta
When a punch in the face leaves Patty's jaw wired shut for three months, she loses an incredible amount of weight and returns to high school with not only a "revenge body," but also with an insatiable desire to get revenge on everyone who wronged her.  Under the guidance of struggling beauty pageant coach/accused pedophile Bob Armstrong, played by Dallas Roberts, Patty dedicates her time to becoming a glamorous beauty queen and pageant winner.
Prior to her drastic weight change, Ryan (as Patty) wore a fat suit along with drab, ill-fitting clothes.
Even before the show's release on Netflix, "Insatiable" received backlash from critics and viewers alike accusing the show of fat-shaming.
After the trailer for the show aired on Netflix, a petition was created to cancel the show's release, gathering more than 230,000 signatures. It's easy to agree or want to sign, with an episode title like "Skinny is Magic" or how Patty's character becomes a fashionista after she loses weight.
Several topics presented in the show are used as jokes or comedic tools, rather than being taken seriously. Patty's weight, her best friend struggling with her sexuality and Bob being an alleged pedophile all get written off as cheap jokes, rather than progressing the plot or being addressed seriously.
"I heard about the show on social media, and that it was questionable," sophomore Caitlin Doherty, a Mass Communication major, said. "So I decided to watch it and it is questionable. There's this one scene where she's wearing the fat suit and the band was behind her playing the drum while she walked down the hallway. It didn't look like a sad scene, it was just corny. I feel like they used her being bigger than everyone else as a joke."
The idea of the show had potential to be a poignant commentary on beauty standards in the media, but the message of the show clearly exemplifies the notion that being skinny is necessary to accomplish your goals.
"I feel like they tried to send a good message, but are sending a horrible one instead," Doherty said. "If you're gonna try and send a good message, make sure you're doing it right."
Netflix released "Insatiable" fairly recently, but if the show was released 15 years ago, perhaps it would not have faced this much controversy. Fat-shaming represents an important issue that just recently entered the public eye, but has been present in popular media for ages. For example: Courteney Cox's fat suit on "Friends," was the punchline to several jokes throughout the entire series.   
"Even though we are trying to bring in more 'plus-sized' models they still have to be a certain kind of "plus" to even be considered a model," said Carolina Zatta, a general wellness focus group leader for Peers Educating Peers and Advancing Health, or PEPAH.
"What I have interpreted is that they have to be the hour-glass shaped but plus size, most stereotypical women don't have that type of body shape," Zatta said. "But I have to applaud Aerie for being one of the most respected and representative of all sorts of women and that's why I enjoy buying their clothes."
While strides are being taken in order to make plus-size models and clothes more prevalent to the public eye, ideas presented similar to the ones in "Insatiable" make it easy for such progress to back track.
"It's hard for me to watch just because I know people who have struggled with it," said Jamie Choate, president of the Active Minds club. "It's something near and dear to my heart; I think everyone should enjoy who they are and what they are."
Television shows and movies featuring confident, plus-size women are extremely important to people who feel like they are not represented on screen. Casting an averagely built actress and putting her in a fat suit should not be considered the plus-size representation that is so crucial to ending body shaming in the media.
Madelyn DePodesta 
Opinion Staff Writer
mdepodes@unca.edu 
On a college campus, there's almost no such thing as too much coffee. It seems like students everywhere drink it: to get through that 8 a.m., finish a paper or stay up to study for a test just a little bit longer.
Although coffee pulses through the bloodstream of the campus community, when I heard Roasted was opening, I was a little skeptical; I did not understand why we needed another coffee place on campus when we already had Argo Tea. Yet, I decided to give it a try and ordered a drink and a muffin.
Instead of having tables, they have large, squishy chairs for students to sit and relax in, creating a comfy atmosphere about the place. It is a very welcoming and cozy space open to students while Highsmith Student Union operates. Roasted promotes an atmosphere for studying with a group, or even just grabbing coffee with your friends and hanging out rather than the quieter, independent study environment of Argo Tea.
Roasted, the new coffee shop in Highsmith has later hours to cater to late night students looking for a bite.
Photo by Madelyn DePodesta
"I think the biggest reaction we've gotten is they're all really satisfied with us being open really late," said Nevada Russell, an employee at Roasted and sophomore at Asheville-Buncombe Technical Community College. "Being on a college campus is really beneficial, when midterms or finals roll around you're gonna have a really cozy spot to come, and have it be really warm and inviting."
Prior to our interview, I had no idea that Roasted was open so late for students and I was pleasantly surprised. It's great that Roasted will be open for students when they need it most.
UNC Asheville juniors Alex Schneider and Justin Condry both agree that having a coffee shop located in Highsmith with extended hours increases convenience, and said they frequent Roasted about three to five times a week.
"I think it's great," Schneider said. "I'm in Highsmith a lot, so having a coffee shop in Highsmith is much more convenient for me than having to walk all the way to Argo or walking back to my room to make coffee."
Roasted calls the second floor of Highsmith home, but limited access due to construction makes its only entrance on the first floor.
"I think once construction is done on the bridge, it'll be way more accessible," Russell said.  "Once that's done, I think it's gonna be more inviting, you'll see us right through the window, you'll be able to walk right in here. A lot of people don't know we're up here yet, once construction's gone, not only students, but anyone passing through will be able to see us."
Once the construction on the bridge finishes, Roasted will be easy to pop in and out of, especially with it being located right at the front of the second floor entrance to Highsmith.
Now, to get to the question on everyone's mind: how are the drinks and pastries at Roasted? Overall, I thought they were pretty good! I ordered a chai tea latte and a chocolate chip muffin, and I was really impressed by how much I enjoyed the chai.
"I love our chai, it's not super strong," Russell said. "All of our syrups aren't super sweet which I really like. I like to taste my coffee, and not have a ton of sugar. Honestly, I like almost everything on the menu, but chai tea is my favorite."
While offering a variety of coffee, Roasted also serves pastries such as muffins, bagels and cookies.
"One of my favorite things is either the bagel, or the Loco Mocha frappuccino," Schneider said. "It's delicious."  
After trying some of the items offered at Roasted and talking with Russell, Schneider and Condry, I think Roasted is definitely a beneficial addition to UNCA's campus. It's super great that there will now be a place accessible for students to get coffee or hang out whenever it's convenient for them.
Peyton Rodgers 
Opinion Staff Writer
prodgers@unca.edu 
Depending on the job, the acceptance of visible tattoos may vary. Many people feel frustrated when asked to cover their tattoos while working and feel the need to question why having tattoos determines an individual's work ethic.
Does a surgeon having a full sleeve negate their ability to successfully perform a surgery? No. Permanent ink does not determine one's ability to complete a task, but can create an image that not everyone appreciates.
Mckenzie Wolford, a social worker for Kannapolis City Schools, mentioned visible tattoos should not impact your ability to perform a job, but in some professions, it is better to keep them covered.
"They can appear unprofessional. Some tattoos have vulgar words, sayings or pictures and that is not appropriate in some fields," Wolford said.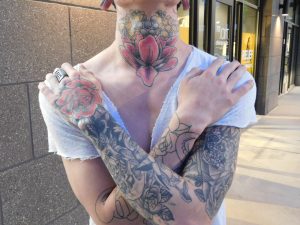 Cooper Knight showing off his neck and arm tattoos.
Photo by Maxx Harvey
Wolford has minimal visible tattoos but, said she would willingly cover them if she had more due to working with students and their parents.
"As a social worker, I would be conscious because I work with children and families and although some tattoos are acceptable, someone who is covered in them might give off a very bad view to the families we serve," Wolford said.
Wolford recognizes younger staff members typically have more tattoos than older staff members.
The opinions of tattoos vary from relating to prisoners and gang members, to art and self-expression. Personally, I view them as a form of art. I believe our body is a canvas and we have the freedom to decorate it in any form we choose.
Some people like to wear art on their clothes and others prefer to wear it on their skin, but I can understand the view that they appear unprofessional. Some tattoos convey messages that make others uncomfortable and would create a bad impression at any profession.
Abigail Hickman, work-based learning coordinator at Mountain Area Workforce Development, said tattoos should be covered in any professional environment. If given the chance to interview a candidate with visible tattoos, she would think they lacked self-assurance and had low self-esteem.
"As they become more ubiquitous, two things will happen: one, they will become more accepted, but two, they will lose their import," Hickman said.
When speaking with local college students I was given a more accepting response to tattoos.
Cooper Knight, a sophomore English major at UNC Asheville, said tattoos do not determine a person's work ethic.
"When someone is covered in tattoos they're going to look at them differently, because the stigma is attached and they're going to, if someone else walks in without tattoos they're probably going to be hired despite their work ethic," Knight said.
Knight talked about a company's image and the importance it has for the business. He claims many people get caught up in his tattoos and certain businesses do not want that as their image. Knight said he understands that since he has a neck and hand tattoo, job searching can become a challenge at any time.
When I started my ink journey, I became aware of the stigma attached to tattoos. I often receive questions about why I wanted them, what they mean, why I would sit through the pain or even pay the money. Although everyone may not support the idea of ink on your body forever, with my body comes the freedom to choose what does and does not happen to it. I don't believe all tattoos need an important, life changing message.
I support tattoos only for the desire to have one, or two or multiple. I understand that due to the stigma created around tattoos, many businesses hesitate allowing them on their employees. Sadly, I feel that this will not change until the majority of people no longer have distasteful views of tattoos.
Even though some view tattoos as a waste of money and time, Mark Griffith, a sophomore biology major at UNCA, said symbols carry great power. He recognizes the culture of tattoos, being relevant since ancient China and thinks the issue many people carry with tattoos is the misunderstanding.
"Tattoos are very deep, personally and the cultural are things that have meaning to you and no one else, so when someone else sees them it doesn't mean anything, it's just kind of like a distraction," Griffith said.
I believe tattoos are a form of expression and should be accepted in any professional environment. With art comes perspective and that is why, I believe, some people question the meaning and reason for tattoos, but that does not make them a negative way of expression. When it comes to my future career, I hope to be somewhere that has full acceptance with tattoos, but I am prepared for an employer that does not.
As much as I support tattoos in a professional environment, I cannot expect everyone to have the same views as me. I must respect that some people don't understand the concept of permanently marking your skin with ink and may have negative perspectives about tattoos, especially in a professional environment. I hope that it becomes acceptable in all working environments to have visible tattoos and that the negative stigma that comes along with tattoos completely fades.
Martin Phillips 
Sports Staff Writer
mphilli6@unca.edu 
The UNC Asheville's women's soccer team saw a huge shift in leadership this year with a brand new coaching staff being introduced and a huge freshman class joining the team.
"We've got an entire new coaching staff, our team is really young, we lost a lot of players and seniors in general," said Skyler Chillson, a sophomore at UNCA and one of the Bulldogs' forwards. "With all the freshman coming in and new coaching staff I think we have had an amazing turn around."
Lindsay Vera, the new head women's soccer coach, settled into her role learning throughout the way.
"It's definitely a learning experience for me, but also for the players because we're all new to each other. We're still learning the language of each other and our personalities," Vera said.
Mark Godin, the director of multimedia at UNCA, said he believes in the new coaching staff and the direction they lead the team.
"What I'll say I like about Lindsay is her coaching style is the right approach that the team needed," Godin said. "She's more interactive with them on a personal level kind of like player to player rather than a head coach to her team so with that personal bond it almost seems like they're able to feed off each other a lot more."
The Bulldogs got off to a sluggish start with their season, with the first game ending in a tie and the next three losses, but they still move forward. Their last game against The Citadel was a 3-2 victory for UNCA.
"That game was full of adversity, we had like four lightning delays and it was hot and raining at one point then we got kicked off again for lightning," Vera said. "Through all of that we kept talking about our mentalities and stay up and stay ready and they certainly did that. I feel like they came out of the gates swinging rather than sit back and wait to see what happens like we've done in the past games."
Maya Gutman, one of the team's 10 freshmen, said she saw growth within the squad in her short time at UNCA.
"We keep improving, we just keep building on what we've done," Gutman said. "Each game we get better and better and better."
Emily Dueñas, another sophomore forward on the team, thinks their offense needs the most work.
"I think where we need to improve is increasing the amount of shots we have for our attacks and that will come with just learning about how we should possess in this new system," Dueñas said.
Gutman agrees that their offense needs to be more efficient.
"We can do better at our attack, just getting shots off," Gutman said.
Chillson said the team does especially well with their defense.
"Our defense is really strong," Chillson said
Setting goals for themselves helps the Bulldogs find the improvements they look for, according to Vera.
"Each player has a personal goal based on their positions and personalities, what they'd like to do on the field and off," the NC State alumna said. "Things that are measurable that we can go back and check right away if we did or didn't do it, those are goals that will hopefully get us to a bigger goal in the end of the season which is obviously to have a better record and get into the playoffs."
Gutman's personal goal focuses around the team as a whole.
"Keep improving every game. We have done so-so thus far, every game we've gotten better in some aspect of the game of soccer," Gutman said.
With such a young team, improvement can be expected according to Godin.
"I would say with all the freshman on the team and Lindsay taking over as her first head coaching job just use this as an opportunity to grow and become a little bit more cohesive as a unit," Godin said. "Once everybody knows their roles and how to execute the game plan then you can worry about climbing the totem pole that is the Big South Conference."