Blue Banner Headlines
The student voice of UNC Asheville
Updated: 5 sec ago
Jill Moffitt, associate chancellor for student affairs and Title IX administrator, says on average there are 52 sexual assault cases during the school year.
Photo by Emily-Ann Trautman
Brailey Sheridan 
Copy Desk Chief
bsherida@unca.edu 
Incredulity toward Christine Blasey Ford's accusation against Associate Supreme Court Justice Brett Kavanaugh shows how misinterpreted statistics about sexual assault discredit and perpetuate disbelief in survivors, prompting them to stay silent, experts say.
"We do not like talking about sexual traumas, partner trauma or child maltreatment. They are very hidden in our culture. We're starting more and more to get additional information out and are having more of an impact in terms of what people know about them, but I think some of that comes from the fact of not wanting to acknowledge how often they happen," said Laura Jones, assistant professor of health and wellness and expert on intimate partner violence.
According to the National Sexual Violence Resource Center, between 2 and 10 percent of sexual assault reports are false. This includes unfounded cases, which present false and baseless accusations. In a baseless report, officials assume the case to be truthful, but the incident does not meet the elements of a crime in the Uniform Crime Report.
"The statistics are a little funny on false accusations around sexual assault because of the way that people define false accusations," Jones said. "They say it's anywhere from 2 to 8 percent, but the higher range of that is inflated because they include things like delayed reporting or non-substantiating evidence for the assault."
According to NSVRC, some reasons for an unfounded case include insufficient evidence to proceed to prosecution, victims deciding not to cooperate with investigators, inconsistencies in the victim's statement and delayed reporting.
Often victims will delay reporting because of neurobiological and psychological responses to their assault, fear that reporting will harm their families, distrust of law enforcement and difficulty completing the forensic exam or rape kit, the NSVRC said.
"It doesn't mean that the accusation was false, it just meant that they couldn't find enough evidence to prosecute. Around 2 percent are false and that's about the same percentage as other felonies," Jones said.
Every 98 seconds an American falls victim to sexual assault, of those victims, only two out of three will report it, according to the Rape, Abuse & Incest National Network. Of the sexual violence crimes not reported between 2005 and 2010, victims claimed fear of retaliation and belief the police would not do anything to help and that the assault remains a personal matter.
"I think survivors put a lot of blame on themselves like, 'I shouldn't have been there,' 'I shouldn't have been alone,' 'I shouldn't have been wearing that,' 'I shouldn't have been drinking.' That's some of the self-blame that is pretty common in some ways because of the rape culture and stereotypes in this, what are surrounding rape and sexual assault," Jones said.
The fear of not being believed when they come forward remains another reason why victims do not report. When misinterpretation of the facts presents distorted statistics, some may believe survivors exaggerate or make up their stories more often than not, according to Jones.  
"I think there's a piece of 'crying wolf,' so to speak, of believing that individuals may be saying that things happen, but they weren't 'As bad as what they're describing.' Which presents unbelievable issues in terms of reporting and willingness to report and the shame that survivors feel who may never report," Jones said. "I think some of it is we've been hearing a lot about shame and guilt, or the idea that 'No one will believe me if I tell them.'
In high profile cases, such as Ford's accusation against Kavanaugh, people may discredit survivor's stories because they believe the perpetrator isn't capable of committing such crimes, according to Jones.
"Around situations where someone may be very reputable in other areas of their life, it's like, 'No, but we know this person in this context. So, how could that person be responsible for this? They're great and X, Y and Z,' and so it's kind of the idea of not recognizing that people can be multidimensional at times," Jones said. "That just because someone is fantastic in other areas may not mean that they haven't committed a sexual offense in some way."
This disregard for the perpetrator's crime puts a significant amount of blame on the victim, another reason why such a slim percentage of victims come forward and why so many cases go unfounded, said Shelby Stovall, healthy relationships focus group leader for PEPAH.
"We need to see individual's experiences as their own and take them as reality. We need to call out those who participate in violent and coercive behaviors and set a common standard of intolerance that does not give support to those causing harm," Stovall said.
According to RAINN, 11.2 percent of all undergraduate and graduate students experience rape or sexual assault through physical force, violence or incapacitation while in college. 20 percent of undergraduate women aged 18 to 24 do not report.
At UNC Asheville, Title IX receives about 52 sexual misconduct cases during the school year. Of those 52 last year, 10 were sexual assaults and four victims went through with reporting to authorities. Three of those cases found the perpetrator responsible and one remained unfounded, according to Jill Moffitt, associate chancellor for student affairs and Title IX administrator.  
More than 50 percent of sexual assaults on college campuses happen in the months of August, September, October and November, RAINN said.
Since August, 12 sexual misconduct cases have been reported to Title IX, Moffitt said.
"We do sexual misconduct on a range, so that's anything from sexual harassment all the way to sexual assault. I would say so far we probably have about 12 cases and of those 12, four are probably sexual assaults and the others would be some other form of sexual misconduct and the four are currently being investigated," Moffitt said.
According to Moffitt, a report becomes unfounded if it does not constitute a policy violation at UNCA.
"If you look at our definition of consent and the ways in which we gauge that based on the facts that we have, it's more often that a report would be unfounded in that we were not able to prove that it violated a policy," Moffitt said. "We believe totally that it happened and we believe totally that there was an impact. We just could not get to the required standard of proof to say that a policy violation occurred. That's usually what makes a report unfounded."
According to Stovall, it remains important to support and believe victims, no matter when they report or how the statistics read.
"It's crucial to remember that someone's experience is their reality and there is absolutely no reason as to why we should question how someone else feels about what they experienced," Stovall said. "Everyone has a right to autonomy, including what decisions they make and as a fellow human being, student on campus, or whatever affiliation you may hold, you should do nothing but support another in every decision they make."
Ezra Maille 
Contributor
emaille@unca.edu
The sweet smell of incense and undertones of stale beer accent the room as electrical cords run haphazardly across the clutter and confetti on the floor. Conversations in subdued tones silence under the loud clash of snare drum and cymbals, followed quickly by the twang of a power chord as deep, low bass notes simultaneously begin to swell, shaking the small apartment.
It's time for band practice.
A short riff plays on the reddish-amber guitar and the drummer quickly adds the beat, a catchy, destructive sound employing almost every piece of the drum kit. The bass player fiddles with his finger pattern and joins in, deep bass notes providing faithful accordance with the
Local band Tan Universe is made up of Daniel O'Grady, Bryce Wallace and Jack Ryan, based off a sign they saw driving down Patton.
melody.
Tan Universe, a band made up of three UNC Asheville students, is relatively new to the local music scene. Daniel O'Grady, the creator and lead guitarist, made music under the band name for the past year. When he moved off campus this fall to an apartment beside his friends Jack Ryan and Bryce Wallace, he brought his instruments with him and the band formed soon after.
"When I first moved to Asheville, we were driving to the UNCA campus and we drove by this tanning salon on Patton Avenue called 'Tan Universe' and it caught my eye because it seemed out of place, like why would anyone ever go tanning?" 19-year-old O'Grady said.
O'Grady played guitar since he was a child although he said he never really got into it until eighth grade.
"That's when I started to like it a lot," he said. "I've just been playing ever since."
The other band members, bassist Ryan and drummer Wallace, both 19, have less musical experience but make up for it with dedication and eagerness.
"I've never owned or picked up a bass before this year, but I've been playing guitar since I was nine," Ryan laughed.
"I first started with the guitar," Wallace said. "I had a drum kit for a few years but then didn't really get into it. I screwed around on kits here and there, but it's been about a six-year span of me not playing drums."   
For the first few Tan Universe songs created, O'Grady played and recorded every part: guitar, drums, bass. Now with the formation of the band, there's more room for creativity.
"It's more than house show music," said Alejandro Mojica, a student at UNCA and also a musician. "It's different. Their personality comes across."
Mojica, part of local band Stayne, hosts and plays shows with Tan Universe at his house. He said he's very impressed by them and their songwriting capability, especially O'Grady.
"I always wanted to write songs with other people but didn't even know how to begin to do it," O'Grady said. "When we jam or we're just improvising, we come up with a lot of stuff and our favorite things tend to stick and develop."
From the Beatles to the Clash to current hip-hop artists, each member of Tan Universe brings a different musically eclectic taste. The three musicians credit major influences to classic rock and punk shown to them as children.
"Rock stars were larger-than life gods," Wallace said. "Being a rock star is the coolest shit ever. It was something you're always like 'yeah, I want to do that.'"
Toby King, an assistant professor of music at UNCA, sees punk and rock music as diverse genres with many characteristics. He said each attempt at modern styles is a new form of classic punk rock.
"We're on sort of a third cycle," King said. "In the '70s, it was a deliberate artistic stance which started in New York and got characterized in the U.K. and then got rearticulated in the West Coast as an imitation of the U.K.'s stuff."
Oblivious of a 'new wave' of punk rock, Tan Universe creates their music based on what they enjoy. O'Grady plays a riff and asks Wallace and Ryan if they like it. They jam on it briefly until a melody develops, later followed by lyrics.
"Daniel kind of started Tan Universe and then brought me and Jack into it and it's really developed our sound," Wallace said. "I think we have a really unique sound together."
This uniqueness shows not just in slow, melodic songs where the loud and raucous punk style is sometimes foregone, but also in the high energy, fast-paced numbers where punk harmonizes indie rock.  
Tan Universe plays a few covers of their favorite songs, but the majority of their performances are originals played at different unofficial locales. Their first performance was in the small apartment where they rehearse and was well-received. Unfortunately, it was less so appreciated by the neighbors and they have since found alternative venues, typically house shows.
"Once you have the ability to be in the front row of somebody you really enjoy, you're star struck," Ryan said. "You're in the moment with everything and it's so much fun."
The band members describe their past musical experiences as if building to the formation of Tan Universe. They attribute their affinity for their new group to helping them create their best music.
"Before meeting Jack and Bryce I jammed a little with people back home but never really had any connection or chemistry with anyone," said O'Grady, a native of Chapel Hill.
As soon as the band begins to play, their cohesiveness is evident. Ryan and Wallace maintain communication for keeping rhythm, opening the stage for O'Grady to improvise.
"You can see the progression in just two months of us being a band," Wallace said. "It's crazy. You can tell we're about it and we want to get better."
Tan Universe performs shows in and around Asheville. Their music is available on Spotify.
Virginia Taylor
Arts & Features Staff Writer
vtaylor@unca.edu
On the screen, the red Power Ranger flips through the air, triumphantly taking out bad guys as explosions detonate behind him. It is hard to believe just years before the man in the suit walked under the changing maples at UNC Asheville.
"UNCA has a special place in my heart, it gave me a place to really experience a culture that was totally different from what I'm used to,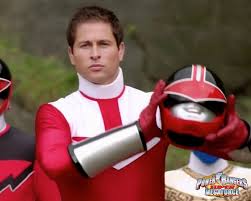 Jason Faunt became the red ranger in 'Power Rangers: Time Force.'
" said Jason Faunt, an alum of UNC Asheville best known for his role as red ranger in Power Rangers: Time Force. "It's a special place in the Blue Ridge Mountains where everything runs a little slower, a little more relaxed than Los Angeles, California and it's a wonderful place to go to school, I definitely look back fondly on my time."
Prior to his big break in Hollywood, Faunt grew up outside of Chicago, Illinois and dreamed of becoming a pro baseball player. It was baseball that originally brought him to Asheville.
"I was given a partial scholarship to play baseball at UNCA so that's what brought me down there," Faunt said. "I'm sure I'd heard of Asheville but wasn't familiar with the area, but I came for a recruiting trip and thought it was beautiful down there, being from Chicago everyone in North Carolina has a very different way about it but I thought the change was pretty cool."
After spending four years playing baseball for UNCA, Faunt decided to return to school for a fifth year to focus on earning his business degree. After realizing he no longer wanted to pursue becoming a professional baseball player, Faunt began to think about what direction he wanted to go after graduation.
"I came back my fifth year as just a student; I waited tables, I worked for a moving company and I was in school during that time just kind of reevaluating who I was and what I wanted to do," Faunt said, "So I decided during that time that I just wanted to move to California and be an actor."
Two weeks after graduation, Faunt packed his bags, said goodbye to his family and drove to California to pursue a career in acting.
"I probably had like $500 to my name and a truck with 200,000 miles on it, and my best friend luckily went to USC in California, so I packed my bags and moved into his fraternity house," Faunt said. "I just dove in and tried to figure it out."
After arriving in California, Faunt worked hard to establish himself in the community, diving into acting classes and continuing to grow as an actor.
"I really had no idea what I was doing, I was just trying to connect the dots as I went along and so I just jumped into acting class and started to learn," Faunt said. "Eventually I was able to get representation and eventually started to get auditions and failed for a really long time, like anything else you keep working and adjusting and trying to be better at your craft."
After being turned down at many auditions, Faunt eventually landed a small cameo on the soap opera, "Sunset Beach." Even though the role was small, Faunt said getting to work on a professional set gave him invaluable experience. As he gained more confidence in himself as an actor he began to book larger roles, eventually landing the role in Power Rangers: Time Force in 2000.
"I was getting more used to auditioning and being more comfortable in the room, going into bigger networks and getting more accustomed to it," Faunt said. "Power Ranger was just an audition that went well! With Power Rangers the first time I read for it I didn't get it, the following year they brought me back again and I didn't get it, and eventually, the third time the role and who I was finally aligned and that's when I booked it."
After booking the role in Power Rangers: Time Force, Faunt was called to film for a few months prior to the airing of the first episode. During this time he quit his day job as a waiter and dove head first into his new role. Even though he was working full-time in a major role, because the show had not yet aired, Faunt said he remained low profile for a few weeks leading up to the premiere.
"I remember I was sitting in a laundromat literally having no money coming in because I hadn't been paid yet, and yet I know I'm the red power ranger," Faunt said. "You're sitting there doing your laundry, knowing your life's about to change, but just waiting for that day to come."
Once his season aired, Faunt said he noticed a change in public reaction almost immediately.
"Once the show actually aired, you go on the streets and now people start to notice," Faunt said.
"People come up to you and say, 'Wait the minute, my son's a huge fan!' I was the same guy but people's perception changed overnight, and now suddenly they treat me differently, they act differently and I thought that was kind of comical because I know I'm the same guy."
Following the initial success of the show, Faunt found himself in the spotlight as people continued to recognize him for his work. However, shortly following his season, both the television industry and his career went through major changes.
"After the power rangers ended 9/11 happened and the writers had a major strike. The invention of reality shows took place because when the strike happened producers had to figure out a way to make money and they started doing reality shows, which became massive successes," Faunt said. "It was a tough blow for me because I wasn't working, I wasn't making money and I went from being on this show to waiting tables again, it was a hard time. I came off this show and thought I'd be a movie star or a TV star and it did not work out that way so initially I really struggled."
While Faunt eventually found new work and pulled himself back up, it was not until years later that he truly began to realize the impact his time on the Power Rangers had made on the fan base, especially as a new fan base develops with Power Rangers being hosted by Netflix.
"Power Rangers became this cult classic and it's had a huge resurgence over the past couple of years. These things called comic-cons came out and of course the invention of Netflix, so I became a big attraction in the comic-con world," Faunt said. "Years later is when I really appreciated what was going on because you start flying all over the world meeting these fans and you meet these kids and they're crying because you were part of their life when they went through bullying or divorce or death in the family, you were their hero."
For Ian Streeb, a Greensboro resident and member of the Nerds of North Carolina Facebook page, said he is excited that Power Rangers has made a resurgence, as he believes it helps teach timeless lessons to audiences of all ages.
"I'm just happy that there are companies out there willing to keep the franchise alive so that new generations can experience such an awesome show," Streeb said. "I think as we get older we lose sight of certain intangibles of children's entertainment, something Disney has excelled in and has dubbed 'magic.' Power Rangers perfectly captures that magic and can appeal to both boys and girls. It's a timeless show that is able to keep reinventing itself and can stay contemporary and relevant."
Asheville resident Audrey Sturdahl said the show played an important role in their childhood and gives them a more positive outlook.
"It was my favorite show as a kid. I watched pretty much every incarnation until middle school," Sturdahl said. "If the series has taught me anything it's to embrace the silliness in things."
For Faunt, being a Power Ranger is not a role he wishes to run from and rather something he embraces in his career. For him, it is fans like Audrey and Streeb who make him proud to be a part of the Power Ranger community.
"It's a little cliché but true, I am the most grateful and appreciative of my Power Ranger fan base," Faunt said. "Some people, they go on a show and try to spend the rest of their career running from the show that made them, they don't want to be typecasted, but I am always thankful to my fans and appreciative because without them I truly would not be here."
Rosa Fallon
Arts & Features Staff Writer
rfallon@unca.edu
As part of UNC Asheville's Visiting Writer Series, guest author Cris Beam came to campus to illuminate the concept of empathy which she explores in her most recent book, I Feel You: The Surprising Power of Extreme Empathy.
Beam is also the author of I am J, the first book with a transgender character to appear on the state of California's recommended reading list for public high schools. During her lecture on Nov. 8, she discussed the commodification of empathy, the teaching of empathy in schools and the concept of empathy as an interruption of power.
"Empathy is a word that sounds redemptive," Beam said. "It is an orientation that, should we adopt it en masse, could extricate us from our violence and our greed."
While empathy may sound redemptive, Beam said the term has a variety of meanings which can result in unclear effects.
Visiting writer Cris Beam discusses the dimensions of empathy from her book 'I Feel You: The Surprising Power of Extreme Empathy.'
"It is a term so varied in meaning and slippery in application, it can have ambiguous, even deleterious effects," she said. "So empathy, when applied artfully and in the right context, empathy can be highly moral and deeply liberating."  
According to Beam, empathy did not start gaining the attention of researchers until the late '90s.
"Thousands of schools across the country now teach empathy in their classrooms as part of their curriculum," Beam said.
She said teaching empathy in schools exists as a response to its decrease in humans.   Beam cited a recent study conducted on 14,000 college students in which students' levels of empathy were measured using a tool called an 'Interpersonal Reactivity Index.'  She said 75 percent of college students rated themselves as less empathic in this study.
"When this came out, people freaked out. All these articles came out saying, 'students are less empathic, and we're going down,'" Beam said.
Empathy is also taught because of bullying, she said. Beam said schools think that teaching empathy is a good response.
A corporate push also drives schools to teach empathy, according to Beam. She said the internet impacts empathy and results in a commodification of empathy.
"In these days of video streaming, corporations can no longer rely on a mass market television commercial to reach an audience. Instead, they count on recording us individually online," she said.
Corporations define this kind of marketing as 'empathic marketing,' she said.
"Capitalism is milking the trend of all things empathy but is also building a culture that perverts our very understanding of the concept," Beam said. "In other words, we expect our watches and our phones and our computers to provide us with experiences totally for us, we feel empathized with in a particular way which has led consumers to need a particular kind of empathy."
Iva Veazy, an independent LGBTQ coach recently moved to the Asheville community. She said the talk caused her to think about the impact of empathy on the world.
"It made me think of how a genuine form of empathy can be very healing on not only an interpersonal level and personal level, but a global level," Veazy said. "Because we have empathy for other people instead of trying to find ways that we don't like them, then we are not as inclined to start wars."
Veazy expressed a strong aversion to the thought of corporate empathy.
"It seems very superficial to me. Each person is individually isolated and targeted for specific products," Veazy said. "She was saying that while that makes you feel needed or noticed, it's purely a capitalistic sort of thing, it's not really what I would consider to be heartfelt."
Veazy said people who think would be less likely to be brainwashed by the idea of empathetic marketing.
"Some people will find it very convenient and easy," she said. "Others will prefer something that will actually nourish them."
Beam spoke about empathy as an interruption of power, specifically focusing on the apartheid crisis in South Africa. She said while visiting South Africa, she met a woman named Pumla Gobodo-Madikizela, a South African psychoanalyst who served on the original Truth and Reconciliation Commission in South Africa.
The Truth and Reconciliation Commission is a restorative justice body assembled in South Africa after apartheid ended. Beam said after meeting Gobodo-Madikizela, she became interested in the idea of empathy for the enemy in post-apartheid South Africa. She said the head of Vlakplaas, apartheid prison, was known as 'Prime Evil' in South Africa and was one of the prime architects of apartheid.
According to Beam, he was originally given two life sentences of 212 and was let out on parole. During her talk, she explored how and why the South African government would let somebody like that out on parole, tying her thoughts into the concept of empathy as an interruption of power.
"Part of the idea was this idea of empathy as an interruption of power. The idea was that inside, he was able to be seen as one bad guy and outside, we had to think about him as everybody's complicit in the making of apartheid, so we couldn't just project all of our 'bad guy fears' onto him," Beam said.
Lori Horvitz, chair of the English department at UNCA, said empathy is complicated.
"Empathy is complicated and I think that Cris was trying to critique the American notion of empathy and she talked about how it's almost corporatized," she said.  
Beam said one can become more empathetic through reading and the arts.
"There are a lot of studies that show reading literary fiction builds empathy because when we understand character's motivations, needs and desires through subtle cues in fiction, we can understand the other."
Madelyn DePodesta
Arts & Features Staff Writer
mdepodes@unca.edu
UNC Asheville sophomore Una Holland enjoys creating art through their fantastical words, characters and stories inspired early on by their love of the Harry Potter series.
"When I was in sixth grade, I read the entire Harry Potter series in one week," creative writing student Holland said. "I loved reading. I had these friends I would talk to online and just talking to people and making different friends all over the world and reading so much got me
Una Holland, sophomore creative writing student at UNCA, writes creative stories incorporating reality with magic and fantasy.
into the idea maybe I want to write."
Holland writes in a variety of genres, but particularly enjoys implementing magic and fantastical elements into their stories.
"I really love fantasy for the most part," Holland said. "I love reading it, different science fiction or fantasy novels. I really wanted to write science fiction books and work on making different worlds and other galaxies. But with time, that's kind of shifted into more of a fantastical idea, or magical realism which is more realistic stuff with just some magical twists put in."
Taking the typical in their stories and incorporating magic and fantasy persists as the main goal for Holland throughout their time as a writer.
"I've been working on this novel for a few years now, and it's like a modernized retelling of "Lilith" and that's my main genre that I've been dealing with, where it's a normal kind of idea at the beginning until the supernatural concepts come in. That's what I've been writing the most, and it's what I love best."
The Harry Potter series was not the only thing encouraging Holland's love of writing during this time in their life.
"I started writing in sixth grade because I had my first laptop — I was constantly on it," Holland said. "I love just sitting and writing. I actually wrote a full book in sixth grade, it was a Harry Potter fanfiction. I have the original book; I wrote it by hand, actually. It's what kickstarted my entire writing career, so I guess I kind of have to owe it to Harry Potter for being my original inspiration."
Holland also found inspiration for their writing through many other books and authors they read growing up.
"There's this one author named Danielle Vega, she wrote these books called The Merciless. Three-quarters of the first book takes place in one night and I just think that style is so interesting," Holland said. "I'm not a big horror writer, but I wanted to take parts of that book and use it in my own writing. Just taking that style and pace my work in that way."
LGBTQ+ authors were also a source of comfort for Holland growing up, influencing their writing greatly.
"David Levithan — I just loved his books," Holland said. "I loved his style and I loved that he was a queer author. I think that was a really, really fun thing to see. I would go to Barnes and Noble and look up on my phone 'LGBT books in Barnes and Noble' and just sit there for hours and try to read more and more."
It is difficult for Holland to pinpoint exactly what, or who, sparked their passion for creative writing and telling stories.
"I could never really pick one specific author or one specific book because there are just so many that I sat down and read," Holland said. "A conglomeration of so many different authors and writing styles that allowed me to grow."
The talent and creativity of the aspiring author goes noticed and celebrated by their peers in the English department at UNCA.  
"We were part of a writers club since freshman year of high school, so just seeing their skills develop has been wild," UNCA English student Jessica Stiehm said. "I remember when we were 14, they wrote this poem called "Ode To Sasha" and it was literally Sasha's name repeated 12 times changing one letter each line and now, five years later, they're editing their 85,000 word novel and looking at publishing options. Writing styles change and it's great."
Holland's passion for creative writing is also recognized by the professors they have worked closely with.
"They have a fierce imagination!" said Mildred Barya, assistant professor of English at UNCA.
The reason for Holland wanting to write stories stems from the impact reading had on them growing up.
"It's the idea of wanting to be a voice for other people who love to read when they're young," Holland said. "Because I know it was books that got me through a lot of hard times growing up. I would always go to books if I needed advice, or I just needed to sit on my own, and I want to be that book for other people growing up. That's why I keep writing. I want someone to read my book and be like 'oh my god, look at this character' and fall in love with the characters and worlds I've created. I want fanfiction written about it."
Holland strives to have that feeling of comfort and understanding in their novels resonate with anyone who reads them.
"It's so important to so many people growing up just reading things that they can relate to," Holland said. "I really just want to help people with that process."
Desire Brown 
Contributor
dbrown7@unca.edu 
Milan Rustic, Olympian, poses for a picture during the track team's practice.
Photo by Desire Brown
Milan Ristic, 2016 Olympian and former UNC Asheville track athlete now shares his expertise with the
sprinters and hurdlers on the UNCA track team during their practices.
Ristic competed for the Bulldogs in 2012 and '13 before competing at the University of California Berkeley, where he received his qualifying time in the 110-meter high hurdles with a time of 13.39.
"When I had the mark that qualified me for the Olympic Games, I just could not believe it. I watched the video of my race and then the video of my reaction when they told me the time, and it still looks unreal," Ristic said.
Ristic competed in the Rio Olympics as a member of the Serbian national team. He remains a Serbian national record holder in the indoor 60-meter hurdles and the 110-meter hurdles. UNCA recruited Ristic, and he broke the school's record in the 200-meter indoors, 60-meter hurdles, 55-meter hurdles, 60-meter indoors, 55-meter indoors, long jump outdoors, 110-meter hurdles, 100-meter and 200-meter outdoors. He plans to compete professionally for a few more years.
"It wasn't real until I stepped on the track. I treat every competition the same, and I want to be the best at every race," Ristic said.
Two male athletes who committed to UNCA decided to transfer just in time from the track and field team, opening up extra scholarship money for the former international UNCA athlete.
"It was us and Eastern Illinois. The two schools that seemed to be the most interested and the ones that were moving the quickest and I just moved a little faster," said Joel Williams, an assistant coach for UNCA track and field.
Williams worked with Ristic for the last six years. Williams reconnected with Ristic after his Worlds Championship meet when he moved back to Asheville with his now wife, Meredith Ristic.
"He couldn't get over the amount of work we did," Joel said. "But he was very coachable."
Ristic started running track in the fourth grade at age 10. He never knew he was going to be a professional runner but always had the desire to run in an Olympic Games.
"It's hard but I enjoy competing so that's the only thing I look forward to," Ristic said. "I want to be the best one."  
Ristic prioritized his education, but as he kept improving throughout his collegiate career, he decided to give  his professional career a chance after graduation. Ristic plans to continue his education once he retires.
"Every time it gets harder I want to give up, but that's not the way out. I want to finish on a high note and that's why I want to run a couple more years," Ristic said.
The UNCA alumnus now pays homage to the university's track and field team with his expertise.
"It's pretty cool working with him because he gives good advice and he knows what he's doing," said Kenzie Bouakhaunphong, member and hurdler of track and field team.
Bouakhaunphong and teammate Nick Roberts both say Ristic gave them advice which will carry on with them through the season, which includes being aggressive and to use their arms to help attack the hurdles.
"It's a great experience. I am truly honored to be working with an Olympian. I'm just very thankful that he's passing down all this great knowledge about hurdling, making us better people, better track athletes and just better all around," said Roberts, third-year hurdler and freshman on the team.
Bouakhaunphong and Roberts were not familiar with Ristic prior to becoming runners at UNCA, but appreciates his efforts to make them better athletes .
Williams said it's an advantage for Ristic to work with his athletes because it gives them the athlete and coaching perspective.
"It's a real advantage for people to have someone who has competed at the highest level athletically but can actually coach you through how it should feel," Williams said.
The two hurdlers said they were intimated the first few times working under Ristic because of who he was as a runner.
"I thought he expected a lot," Bouakhaunphong said.
Ristic serves as a member of the Serbian national team and remains undefeated in the 110 hurdles race in his country since 2010.
"I learned at a very young age not to get nervous. I know this is what I do, I'm good at it. I don't need to be nervous," Ristic said.
Ristic knows when to flip the switch by leaving everything on the track and not looking back once stepping off the track. He enjoys his life outside of track and that's why he's not burnt out, he said.
"He's totally committed to being the best he can and I feel like that has increased a little bit every year. He does everything to take care of himself," Williams said. "As much as he's committed to the sport and his improvement, he's not so wrapped up that he doesn't have other interest."
Head Coach Elizabeth Lykins stands between Assistant Coach Marty Moran, left, and Assistant Coach Daniel Dozier for a staff picture.
Photo courtesy of UNC Asheville Athletics
Morgan Rulevich
Contributor
mrulevic@unca.edu
Hot water begins to bubble as 6:15 a.m. approaches. She pours a large cup of tea, softly blowing the steam away from her lips.
They begin to meander in, dragging their feet and rubbing their eyes from a cozy night's sleep. Sitting in silence, they listen to the moans and groans of a concrete dungeon filled with a 12-foot ice bath awaiting submersion.
All heads turn quickly as she waltzes across deck. The clock strikes 6:29 a.m. and the girls take in one final warm sigh. Coach Elizabeth Lykins smiles ear to ear yelling "on the top" as the swimmers fly into the untouched abyss, rippling their lasting warmth away.
Elizabeth Lykins, the head coach of swimming and diving, began the women's swimming program in 2012 by holding tryouts and looking for anyone willing to commit. The team now ranks top four in the Coastal Collegiate Sports Association and recognizes a new additional women's dive team.
"My dad swam in college and he really wanted the opportunity for his kids to swim and continue being on swim teams," Lykins said.
Cramming into the 12 passenger van, smashed between the seat and her swim bag, Lykins and her four siblings were shuttled to the pool every day.
The small community in Gainesville, Georgia, formed a club team in '82 called the Gainesville Swim Team. Her father, Larry Lykins, was a former college swimmer and became the driving force of the GST.
In high school, Elizabeth Lykins competed in basketball, softball and swimming. With senior year approaching quickly, she had to decide what to play in college.
"There used to be a book of college swimming since there was no internet. The book listed every college universities' swimming teams including best times, affiliation, coach's name and phone number," Lykins said.
Standing in the kitchen hallway, hair dripping from her second swim practice, Elizabeth Lykins eagerly called the College of Charleston head coach once a week awaiting an offer to compete on the collegiate level.
Lykins was named captain her sophomore, junior and senior years at the College of Charleston proving to be a consistent leader in and out of the pool. She competed in the 200-yard fly, 400-yard individual medley and the 1650-yard freestyle at the Southern States conference each year. After competing during her four years of college, Lykins got an internship with the Disney Vacation Club at Hilton Head, South Carolina.
Years later, spending every dime in her bank account seemed like a dream come true. Traveling nine months around the world, teaching swim lessons, coaching a master's team in Scotland and becoming a certified diver in the Great Barrier Reef kept Lykins busy.
Travel became a necessity for Lykins as she finished graduate school, coached as an assistant and took a job alongside Head Coach Neal Studd at the Florida Gulf Coast University creating the swim and dive program in 2007.
From the crisp mountain air of Telluride to the snowy streets of New York, basking in Florida's heat for 5 years was enough for Lykins.
Waiting eagerly for a callback, the 2012 UNCA women's swimming season approached rapidly as if creating the FGCU swim and dive team from the ground up was enough.
"She is a very motivated, mature and realistic swim coach that loves her job," her father said.
Elizabeth was swimming competitively by the age of six and at 12, she settled on swimming. All of the coaches around her knew she would be a swim coach someday because of her organization.
In high school, she won a $500 scholarship to college for the highest grade point average as a senior swimmer. At the College of Charleston, she took leadership and organized everything on the team earning the most outstanding swimmer MVP award senior year.
At her conference junior year, she scored in the mile against Georgia Southern pulling ahead at 900 yards to out-touch her competitor.
"I admire everything about her. Her adventurism spirit lives life to the fullest and she takes advantage of everything she can," Larry Lykins said.
Coming into her seventh season as a head coach, Lykins continues finding new, young women willing to make a difference and commitment to the program.
"She was easy to talk to and I appreciated that she highly valued a positive team culture and a balance between athletics and academics. This is what initially drew me to UNCA, and after my official visit, I knew that this team and this university was the perfect fit for me," said Katie Brown, senior collegiate swimmer at UNCA.
Brown smiled eagerly as she explained the swim team's energy. Her energizing tone resonated against the walls.
"I would say our team's energy is both my favorite aspect and our strongest attribute. This season has been pretty grueling in terms of training, but we approach tough training by bringing each other up," Brown said.
Elizabeth Lykins continues to build culture and excitement to the program by introducing a first-ever women's diving team. Teammates say they're making program history and definitely going to help take the program to the next level.
"I'm most proud of the culture of the team. The quote 'because of you, we are good' reminds myself why I do these things and it's all because of these ladies," she said.
UNC Asheville women's soccer wraps up their first season with their new head coach with a 3-9-4 record.
Photo by Adrian Etheridge
Martin Phillips 
Assistant Arts & Features Editor
mphilli6@unca.edu 
The UNC Asheville women's soccer team wrapped up the 2018-2019 season with a 3-9-4 record. While it may not be the record the Bulldogs were hoping for this season, coach Lindsay Vera remains excited to continue work with the team.
"I'm just excited to do it all over again now that I have one season under me," Vera said.
This was Vera's first season with the Bulldogs coming off of her assistant coaching job at the University of Texas Rio Grande Valley. She came accompanied with a new coaching staff as well as many new young players.
"We are a really young team," said Ellie Stone, senior defender for the Bulldogs.
The first season with a new head coach can be difficult, players often don't know what to expect of a new coach. Kyra Kandle, another senior defender on the team, said she was happy that Vera turned out to be the coach.
"Going into our senior year not knowing what we're gonna get with a new coach I think we couldn't have asked for anything better," Kandle said.
Vera brings a new outlook on the game to the team, as well as changing certain defensive and offensive schemes according to Emily Dueñas, a sophomore midfielder.
"Lindsay came in and brought this new style which was the total opposite of how we were playing before," Dueñas said.
Bella Iorio, a senior midfielder for the Bulldogs, says this new style of soccer has brought a new found excitement to the team.
"She has such a fun outlook on soccer," Iorio said. "Yes there were times where we had to be serious but there were also times where we would have so much fun at practice and it made the atmosphere and the energy at practice so high and everyone was so excited to come to practice."
The Bulldogs seemed to be a perfect fit for Vera as she expressed how much the team impressed her over the course of the fall season.
"I just want to put it out there how great the players were," Vera said. "They made life very easy and I'm proud and I'm excited about the foundation that's here."
With one season in the books, Vera's sights are set on the upcoming spring season as well as next fall season.
"We're in a good position to build off of this going into the spring and for next fall as well," Vera said.
The Bulldogs have work to do. With a conference record of 2-6-2 the Bulldogs have got to find ways to get wins. Iorio has a simple fix for the team to increase wins.
"We need to find the ball in the back of the net a little more than we did this year," Iorio said.
The Bulldogs averaged 0.62 points a game while their opponents averaged 1.44 points a game against them. UNCA simply didn't take enough shots, averaging eight a game compared to their opponents 19.
Where the offense struggled, the defense shined according to Stone.
"We did really well with our defending they changed how we defended this year and obviously being one of the teams with the least amount of goals scored on us this year I guess we did pretty well with that," Stone said. "We definitely need to find a way to score but that will come with age."
The Big South Conference title could be Asheville's in the future says Vera.
"I think this conference is a good conference but it's definitely something that we can climb throughout," Vera said.
With a young team and a head coach coming off her first season, the UNCA women's soccer team has their sights set on next season.
"This team has a bright future," Kandel said.
Members of the UNC Asheville dance program perform 'Moving Voices,' a performance about social justice in the U.S. and Germany.
Photo by Celia Bambara
Peyton Rodgers 
Assistant Sports Editor
prodgers@unca.edu 
Members of the UNC Asheville community express their passions in many artistic forms.
Members of the UNCA dance program will show their passion around the social justice issues in the U.S. and Germany through the two-day site-specific dance series, "Moving Voices."
The program is co-directed by UNCA Dance Program Director Celia Bambara and visiting scholar, Jana Schmueck of Germany.
The performances were held in Pack Square in downtown, Black Mountain College Museum and Arts Center, Brown Dining Hall and on the Ramsey Library stairs.
The site-specific dances and discussion covered women's voices, class difference, race, location, immigration in East Germany and the struggle to find your voice in the midst of oppression.
"I think the most important part of this message, is this notion of intersectional feminism and the fact that we as women are both trying to create a socially aware dance," Bambara said. "It addresses social issues and can perhaps be more effective than a social manifestation, like in a rally."
The chosen locations have a significance to the series.
"Pack square in Asheville is a very public space, but is also a space of gathering, it's a space of protest, it's a space that has massive layers of history within this town," Bambara said.
Black Mountain is a collaborative place where projects have been thought of and created, said Bambara.
The two locations at UNCA, Brown Dining Hall and the Ramsey Library stairs, are areas for gathering and protesting from the community.
Bambara said she hopes the audience feels the emotions from the dances in the series and their own experiences.
"Anything that other people have stored in their bodies and in their memories can resurface," Bambara said.
Bambara said she hopes the series exposes people to dance from a new perspective when considering the body, voice and the way different social issues impact society.
Bambara and Schmueck both performed in the dances.
Ann Dunn, humanities lecturer at UNCA, said dance is not meant to be analyzed, but experienced and felt.
"It might get in the way of enjoying and appreciating the movement," Dunn said.  "Just look and see what you see"
Dunn began dancing at the age of five with classical ballet. She received a full scholarship to attend New York City Ballet School. She later became Principal Ballerina at Hartford Ballet and the American Ballet. Dunn is the owner of Asheville Ballet, the oldest professional non-profit ballet company in the state of North Carolina.
Dunn favors modern dance, the type of dance displayed through the "Moving Voices" series, because she said it displays the human experience better than classical ballet.
"Modern dance at that time was barefoot, down to the ground, it was in the real world, it was without fairies or swans and princesses and rich people," Dunn said.
Dunn said the biggest challenge in dance is your body.
"The body has certain limitations and you want it to be able to do everything," Dunn said.
She considers training the body to do the movements you desire to be one of the most challenging parts of dance.
Myles House, junior art student at UNCA, is a dancer for the "Moving Voices" series.
House, along with the other dancers, practiced three hours at a time to perfect the movements.
"It's definitely a very powerful experience, just because a lot of the work we are doing is based on different voices and democracy," House said.
House is interested in seeing how the audience will react to the dances. She said they may attempt to dance beside them and interact with the dancers.
House appreciates her time working with Schmueck not only with the series but through the master classes Schmueck is teaching.
"I really like the stuff she's choreographed so far because she lets' us kind of collaborate with her," House said. "I felt more involved in the process."
House considers dance to be a form of expression.
"I like that it connects your body to your mind in a way that a lot of things don't," House said. "I like that moment when you can have an idea in your head meet your body."
House recognizes the process when making choreography is influenced by research and academic processes.  
House said she hopes the audience understands the art in ballet and the time and dedication required for a performance.
"I think they should expect to have a dance piece that hopefully makes them think, not only about us but about themselves and about the world that we live in," Bambara said. "And maybe about the really specific spaces that were performing in and the dynamics, not only on this campus, but in this state."
Madisen Zyburt celebrates winning a crucial point against Presbyterian.
Photo courtesy of UNC Asheville Athletics
Henry McGannon 
Sports Staff Writer
jmcganno@unca.edu 
Madisen Zyburt was dubbed Big South defensive player of the week for the second time this year. She was given the award after impressive showings against Presbyterian College and Charleston Southern, finishing with 16 digs in a gripping five set win against Presbyterian and 15 digs in the three set win against Charleston Southern.
Assistant Coach Jen Peterson has nothing but great things to say about the UNC Asheville senior.
"Maddy is a very fun, very hard working young woman. She has a lot of volleyball knowledge and experience," Peterson said.
Zyburt's teammate Kailey Hackett also described her as an extremely hard worker.
"I think that Maddie's success is due to her hard work attitude this whole season. She's been working really hard in practices and never gives less than 100 percent. Maddie pushes herself to the fullest every single game and practice and inspires the whole team to do the same," Hackett said.
As a senior, Zyburt often plays the role of a leader on and off the court for the Bulldogs. She gets the whole team ready to play their hearts out before every match.
"Maddie is a spark of energy on the court, she really gets everyone fired up before matches and cheers louder than anyone else even when we are down. Maddie is also good about helping the team shake off the loss of a set so we can bounce back and win the next one," Hackett said.
That is high praise coming from a teammate. It is crucial for a team to have a player who can get everyone charged up with energy before a match. Even more impressive is her ability to keep everybody's spirits high after a bad set.
Both of her coaches commented on her leadership abilities.
"She is a senior this year for us, so she shows a lot of maturity. She has been a leader on and off the court for the team. She is a verbal leader and also leads by example through her hard work and practice, individually and in games. That has really set the tone for our very young team that we have," Peterson said.
Head Coach Frederico Santos also spoke of Zyburt's leadership abilities.
"As a senior and as a captain, I think she provides leadership on the court. She communicates very well with her teammates," Santos said.
UNCA junior and volleyball player Carter Kennedy commented on Zyburt's leadership abilities.
"She does a great job of being a leader for the team on the court by leading by example. No one else I know fights through so many injuries, all at the same time for that matter, just so they can play the game they love," Kennedy said.
Kennedy and Santos also noted Zyburt's volleyball IQ and her knowledge of the game.
"On the court, Maddie does a great job of helping others and holding them accountable. It really benefits the entire team. Personally, she'll let me know what I can fix technically so I don't make the same mistake twice," Kennedy said.
Santos expressed his feelings about Zyburt's ability to know what is coming next on the court, an imperative skill for a defender.
"It's knowledge of your job, knowledge of what the opponent is doing, all of these things are helpful and she is always support for her teammates on the court," Santos said.
Zyburt has had success all season, boasting seven games this year with 20 or more digs. Zyburt also carded an incredible 33 digs against Western Carolina University.
"Maddie had an insane amount of digs against Presbyterian, many of which may not have been accounted for in the stats. As a defender, having the mentality that no ball will hit the ground inspires others on the team to do the same. It makes the hitters confident they can swing wherever they want because they know they'll have a teammate backing them up no matter what," Kennedy said.
In addition to being a huge asset to the team on the court, Zyburt is a huge asset off the court. Her teammates look to her when they need to push themselves through a tough practice, they look to her for technical advice and they even look to her when they need to laugh.
"Maddie is the giggliest, most sarcastic person I know. She always knows how to make everyone smile and can get everyone on the team laughing in 2 seconds. She is a master of the eyebrow raise and no matter what, I know I can always look to Maddie to make me smile," Hackett said.
"The fact that she continues to work hard despite the pain she's in and is still playing really well is just one of the many reasons I admire Maddie," Kennedy said.  
Assistant coach Jen Peterson simply said, "I love that kid."
Zyburt is a cornerstone of the bulldog defense and a crucial member of the team. She is beloved by her teammates and coaches. She is having a fantastic season and only has three home games left as a bulldog. Her last home game will be against USC Upstate on Nov. 6. Go watch her play while you still have a chance.