The Morton S. Cohn Scholarship Fund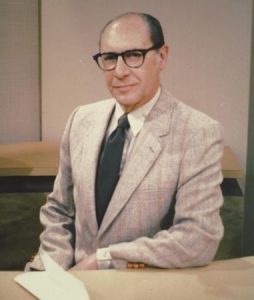 Morton S. Cohn was a pioneer broadcaster who began his career in 1940 as a radio announcer at WAJR radio in Morgantown, W. Va.  After serving in the U. S. Army in World War ll, he returned to his broadcast career as an announcer and program manager of WCHS radio in Charleston, W. Va. from 1946-1954 when he put WCHS TV on the air and served as program manager until 1959.
Mr. Cohn came to Asheville in 1959 as program manager for WLOS TV.  In 1962, he was promoted to Vice President & General Manager of WLOS TV and WLOS AM/FM Radio.  In 1969 was elected President of the stations.  In addition to these responsibilities, Mr. Cohn was well known in Asheville for his on-air editorials, aired during the 5pm and 6pm newscasts each weekday.  With outspoken leadership and community vision, Mr. Cohn wrote and hosted these editorials from 1976-1982, and from 1984-1989.  Often, his widely-known views and his plain common sense led to significant improvements throughout Asheville.
In the late '60's, Cohn served first as board member, then Chairman of the ABC Television Network Board of Affiliates.  As Chairman, he was a prime negotiator responsible for the successful network launch of ABC Monday Night Football.
In 1982, Cohn became Vice President of the parent company, Wometco Enterprises, as well as General Manager of WTVJ TV in Miami, FL.  He retired in 1984 and returned to Asheville because of his love for this community.  He continued his editorials on TV, and he continued to consult WLOS until 1989.
Throughout the years, Mr. Cohn was also a community leader in Asheville, serving as President of the Asheville Area Chamber of Commerce, Chairman of the Citizens Committee for Better Schools, Vice President of the Asheville Symphony Orchestra, Chairman of the 1985 YMCA Capital Funds Campaign and President of Federated Jewish Charities.  He also served on the boards of UNCA, Memorial Mission and St. Joseph's Hospitals, Bank of Asheville and later NCNB, United Way, Center for Creative Retirement, Country Club of Asheville and Temple Beth Ha Tephila.
Mr. Cohn was an innovative broadcaster, and a dedicated community leader in Asheville for three decades.  This Scholarship Fund was established by his family and friends to honor the distinguished memory of Mr. Cohn and to help and inspire outstanding students in Mass Communications at UNCA. The scholarship funds the two awards outlined below.
The Morton S. Cohn Scholarship
Recipients of the Morton S. Cohn Scholarship are declared majors with the Department of Mass Communication and distinguished in their academic performance including efforts in research, grade point average, and other indicators of academic scholarship.
The Nantahala Power and Light Scholarship
The Nantahala Power and Light Scholarship goes to the most outstanding student in the Mass Communication Department from the counties in Western North Carolina formerly served by the Nantahala Power and Light Company.
Nantahala Power and Light was a power source of about 100 megawatts — small by any standard — which generated power solely by impound dams.  It was formed in 1929 by the Aluminum Company of America (ALCOA), which supported an aluminum operation in Tennessee with this power operation, which it called the Tapoco Project. The area that it served included all or portions of Cherokee, Clay, Graham, Jackson, Macon, and Swain counties, and was and is a rural, sparsely populated area; thus, the public relations office of NP&L sought to benefit some of its clients by creating a scholarship to benefit the student from their service area.
The George and Marjorie Cogdill Endowment for Media Studies
A scholarship for Mass Communication Majors in honor of Michael Cogdill's parents.
The scholarship is to be awarded to a Mass Communication major based on need and merit or both. Michael Cogdill set up this endowment to honor George and Marjorie Cogdill, who in Michael's words were "both Appalachian-born and unable to go far in school, always prized education for me and made mine easy to get." Michael regards this scholarship as a way for his parents to be remembered, "I want to give a lasting legacy to their faith, hard work and the coup de grace they slammed against the head of poverty and ignorance."
Michael Cogdill is a Mass Communication graduate who currently serves as the anchor for the 6p and 11p newscasts on the NBC affiliate WYFF in Greenville, S.C. He is an acclaimed news journalist, novelist, screenwriter, and film producer. Cogdill is the recipient of the National Edward R. Murrow award and 29 Emmy awards as well as many other recognitions for his work in broadcasting and news.